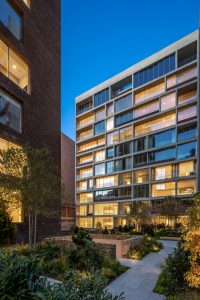 Brazilian architect Isay Weinfeld has designed the two Manhattan towers—Jardim Norte and Jardim Sul. Multilevel courtyard gardens are focal points for Jardim's 36 residences.
Jardim, the Portuguese word for garden, brings Brazilian design to classic Manhattan living. Weinfeld collaborated with the New York landscape architecture firm Future Green Studio for this project.
Jardim is conceived as a pair of towers framing an ultra-private urban park. The gardens envelop and engage Jardim Norte and Jardim Sul, echoing the urban parkland of the nearby High Line.
The residences are designed as an embrace of nature in the heart of West Chelsea with broad floor-to-ceiling windows and terraces integrated with indoor living areas.
"I have always thought of Jardim as a refined and elegant building that would speak softly," said Weinfeld of his debut ground-up New York project. "I am not into sculptural architecture. The idea of doing something simple, yet strong is what moves me."
Weinfeld has choreographed movement and circulation throughout Jardim, framed like a stage set within walls of ashlar stone. A curved staircase of cantilevered concrete treads rises from the lobby to the openness of the gardens above. The sculptural stair leading to the gardens is a ribbon of stainless steel with a carved wood handrail rising along rustic stone walls.