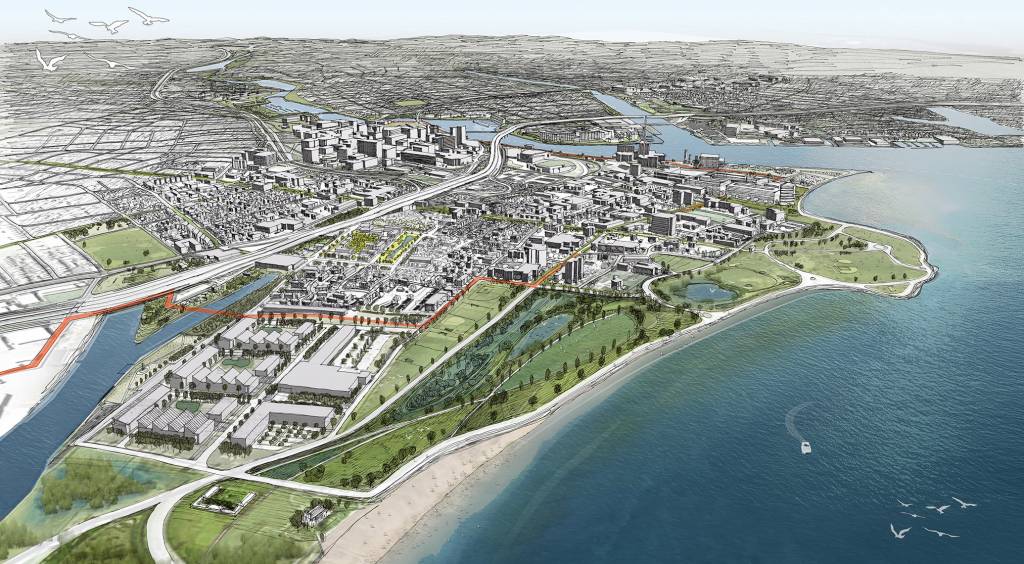 The Connecticut Department of Housing has hired a team of architects, engineers, designers, and urban planners to create climate change and flood resilience measures, which will help minimize flood risk and rising sea levels affecting Bridgeport. The project, one of 13 awarded by the U.S. Department of Housing and Urban Development (HUD), is part of the National Disaster Resilience Competition (NDRC), a one billion dollar initiative to help communities recover from disasters and safeguard against future hazards.
Catastrophic storms in recent years—including Hurricane Irma in 2011 and Hurricane Sandy in 2012—left streets in the seaport city flooded for days. The resulting impact weakened the community's infrastructure, hindering economic growth. The announced project's multidisciplinary team, comprised of WSP, Arcadis, Waggonner & Ball, and Yale Urban Design Workshop, will draft resilience strategies designed to reconnect communities to the water, create new uses for the city's waterfront, foster new development, and revitalize the city's South End community.
"Together, our team can help outline flood risk reduction methods that will improve the viability of Bridgeport's downtown while creating a new amenity for its residents to enjoy," said John McCarthy of Arcadis.
Waggonner & Ball, in collaboration with Yale Urban Design Workshop, will lead architecture, urban design, and coordinate landscape architecture, as well as support public engagement. WSP will handle project management, public outreach, civil and geotechnical engineering, and environmental assessments, while Arcadis will undertake numerical modeling and design of coastal flood risk reduction structures and interior drainage solutions, environmental assessments, and support community engagement.
Integrated design features in Bridgeport's South End include:
floodwalls;
raised corridors;
embankments;
interior drainage improvements; and
green infrastructure.
Additionally, the project includes a continuation of Resilient Bridgeport, a Rebuild by Design pilot project featuring a $6.5 million stormwater system designed by Arcadis, Waggonner & Ball, Yale Urban Design Workshop, and Reed Hilderbrand. The pilot also includes an integrated 2.5-acre (1-ha) stormwater park to store and manage rainfall runoff.
Bridgeport was awarded $10 million in funding through Rebuild by Design's Hurricane Sandy Design Competition. Subsequently, the city received $41 million in federal funds from the NDRC.
Construction on the project is scheduled to begin in 2019.