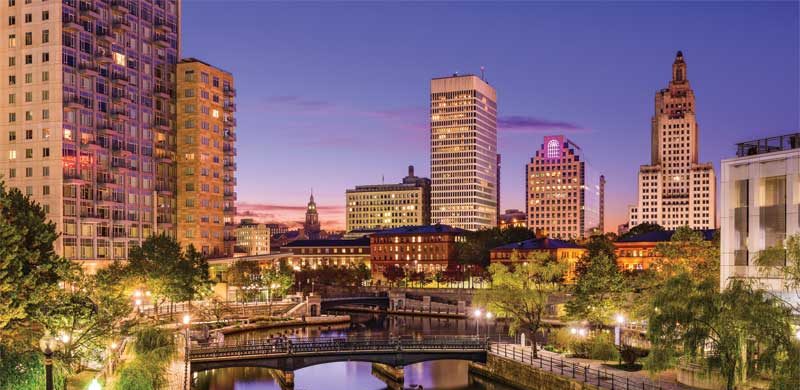 by Sylvia Wofford
CONSTRUCT is the only dedicated national event specifically designed to provide the commercial building team with real-world, practical product 
and education solutions. Taking place in Providence, Rhode Island from September 13 to 15, the gathering offers 
a variety of different solutions-driven learning opportunities for commercial architects/designers, specifiers, contractors, project managers, product reps, engineers, and building owners/managers at all levels—from those new to the industry to individuals with more than 30 years of experience. CONSTRUCT is produced by Informa Exhibitions U.S. As one of the official partners, CSI will 
be holding its 61st Annual Convention in conjunction with the event.
Covering everything from air barriers to fire protection systems, coatings to architectural hardware, and much more, the Exhibit Hall will be packed with more than 200 exhibitors spanning over 2600 m2 (28,000 sf). Exhibitors will showcase products, services, and technologies for commercial building industry professionals who design, build, renovate, or operate in the built environment. 
This makes Construct it the perfect opportunity to:
discover the hottest new products and trends;
get answers to code questions;
learn more about technical standards and interpretations;
discover solutions to current specifying challenges; and
develop specifications for current projects.
CONSTRUCT strives to bring its participants new features to look forward to each year, and this year is no exception. The new offerings include revamped Learning Pavilion sessions featuring live product demonstrations, along with a combined Coffee Lounge/Happy Hour networking area. There will also be the new Let's Fix Construction luncheon as well as the Newcomer reception.
Education and networking opportunities
In addition to manufacturer and supplier booths, CONSTRUCT offers a solutions-based education program featuring more than 40 new sessions, led by over 55 industry-leading speakers. Participants can earn over a year's worth of continuing education credit, including 18.5 American Institute of Architects (AIA) LUs/HSW, 17 Building Owners & Managers Institute (BOMI) CPDs, and 18 International Code Council (ICC) hours. Green Business Certification Inc. (GBCI) credits are also available, and all sessions qualify to fulfill CSI continuing education requirements.
Divided into easily searchable tracks for architects/designers, specifiers, contractors, building owners/managers, project managers, engineers, manufacturer's reps/product reps, interior designers, and young professionals/students, the learning experience is easy to customize. The program is a must-attend for any industry professionals seeking to stay up to date on the latest trends, work smarter, boost their careers, and earn continuing education credits.
CONSTRUCT also offers several featured sessions and speakers, including the keynote presented by Thom Mayne, Pritzker Prize-winning architect and founding principal of the interdisciplinary architectural firm Morphosis. He will present "Multiple Agendas," a practical presentation including a look at fabrication and technical design practices, project cost management, product development, and sustainable building practices. The Game Changer session, always a favorite at CONSTRUCT, will be presented by Paul Doherty, president/CEO of the Digit Group. One of the global industry's most sought-after thought leaders, strategists, and integrators of process, technology, and business, his session, "Specifications in the Age of Smart Cities—How Specs Are Changing the World," will address the rapidly evolving innovations specifiers and other industry players need to understand and address. We are also pleased to announce the addition of sessions presented by Joseph Lstiburek, PhD (described by the Wall Street Journal as "the dean of North American building science"), Laura Frye, Erin Borradaile, Michael Chambers, and many more.