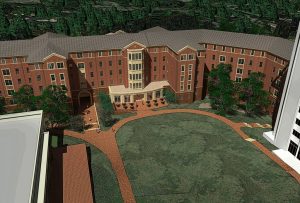 After a delay in 2020, construction restarted this month on Moore Hall, the University of North Carolina at Charlotte's new, six-story student housing building.
Designed by St. Louis-based KWK Architects and architect of record Jenkins Peer Architects of North Carolina, the 13,657 m2 (147,000 sf) residence hall will replace the old Moore and Sanford Hall towers (built in 1969 and 1970) to complete the upper south village residential quad and provide a direct pathway to the South Village dining hall.
"With the pandemic causing so many delays, we are excited to see activity resuming on residence hall projects, said KWK principal Paul Wuennenberg.
KWK's team worked closely with university administrators to design the new hall with first-year students in mind. The building's design includes traditional double rooms for up to 692 residents and their resident advisors. Resident rooms are supported by shared bathrooms for more privacy, with lounges and study rooms on each floor. The design also includes a community kitchen, laundry room, gaming area, and office and living space for Housing and Residence Life staff.
The new complex was also designed using LEED or Green Globes elements, and its exterior design reflects the existing architectural style on campus. The new hall is expected to open in August 2023.