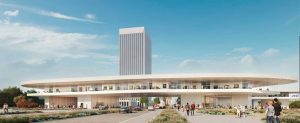 Swiss architect Peter Zumthor has revised his design plans for the Los Angeles County Museum of Art's (LACMA's) new campus. Renderings reveal the proposed building size has been scaled down to 32,284 m2 (347,500 sf), and the maximum height has also been reduced.
The new building would be composed of seven semi-transparent concrete and glass pavilions that support an elevated, organically shaped, and transparent main exhibition level with a floor-to-ceiling glass façade. It would replace the four existing, aging buildings that would eventually be demolished.
According to LACMA, "the buildings to be demolished have many serious structural issues and problems with plumbing, sewage, and leaks, compromising their ability to hold our collections and host our visitors and staff. To retrofit the existing buildings would be very costly while still failing to provide the setting most appropriate for the collections and visitors. Museums change over time to accommodate cultural shifts in our relationship to the arts, and the aging buildings no longer reflect the best and most effective way to exhibit the museum's collections."
Zumthor's design includes new outdoor landscaped plazas, public programming, educational spaces, sculpture gardens, and native and drought-tolerant vegetation integrated with the museum building, LACMA's west campus, and the Hancock Park.
The project would open up approximately 1.4 ha (3.5 acres) of new public outdoor space. Additionally, a 260-space parking facility would also be built.
According to LACMA, the required environmental studies for the plan have been completed, and the county has now issued a Final Environmental Impact Report (FEIR). The next step in this comprehensive review process will be a public meeting to be held by the Los Angeles county board of supervisors to certify the FEIR and approve the project.
If the project gets approved, construction is expected to start late 2019 and conclude at the end of 2023.