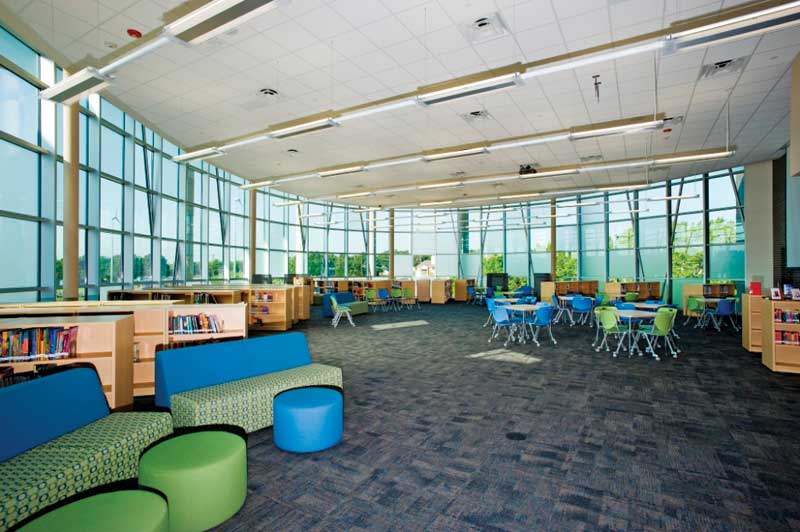 Opening last year in Irving, Texas, the 13,935-m2 (150,000-sf) $30-million Lady Bird Johnson Middle School became the country's first net-zero building of its type.
Enrolling approximately 900 students, the newest addition to the Irving Independent School District (IISD) was designed by Corgan Associates and is able to produce as much energy as it consumes annually.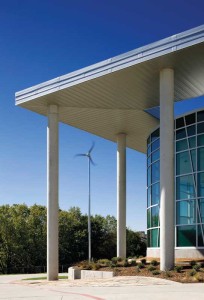 Some of the technologies contributing to the building's net-zero rating are:
rainwater collection system;
greywater harvesting;
daylighting in classrooms;
Energy Star-rated kitchen;
geothermal heat pump;
high-efficiency glazing;
approximately 3000 solar roof panels; and
12 wind-turbines.
One of the notable design features of the building is a canopy covered in metal cladding constructed on two sides of the school. By analyzing sun angles during school months, designers were able to create the canopy at a width allowing natural daylighting while blocking the sun from overheating the building during warmer months.
The metal's reflectivity allows the building to remain cool, while still benefiting from the natural light. During winter, when the sun is lower in the sky, the canopy's placement allows the sun to shine directly through windows, providing heat and light to classrooms.
High-efficiency glazing, insulation, and trim in a silver finish means the material's reflection reduces heat absorption and improves the building's energy efficiency.
In an effort to educate students about the technologies employed at their school, learning centers are located within the building regarding topics such as geothermal science, rainwater collection, solar panel usage, and wind turbine use.
"The general message of the school is to reduce, reuse, recycle, and educate future generations to become stewards of the environment," says Corgan Associates' Sangeetha Karthik.