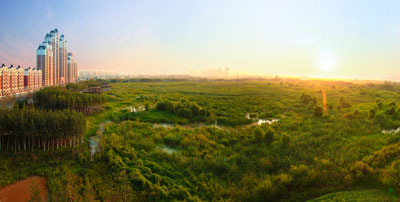 The American Society of Landscape Architects (ASLA) has released an online guide that examines the benefits of green infrastructure and design.
The applications included are green streets, parks, urban forests, wildlife habitat, and vegetated walls or roofs. Communities can benefit from green infrastructure by managing stormwater and reducing flooding and mitigating the heat island effect.
This resource will also provide information regarding the cost-effective aspects of green infrastructure compared to traditional concrete assemblies.
"At all scales, green infrastructure provides real ecological, economic, and social benefits," said the group's executive vice president and CEO, Nancy Somerville. "Cities need as much green infrastructure as possible, and landscape architects are implementing it in communities across the country."
The online resource is part of the organization's new series of guides and toolkits and includes numerous studies and articles in regards to innovative uses of green infrastructure from large scale to small scale. Additionally, sections are included touching on forests and nature preserves, cities, and constructed wetlands. This information will be useful to landscape architects create these types of systems.
The benefits design professionals and specifiers will learn about green infrastructure include:
? absorption and sequestering of atmospheric carbon dioxide (CO2);
? filtering air and water pollutants;
? stabilizing soil to prevent or reduce erosion; and
? reduce energy consumption through passive heating and cooling.
As the guide is a 'living document,' users are encouraged to submit case studies or articles regarding green infrastructure. Click here to access the guide.