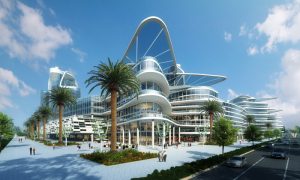 Bleutech Park, one of the first digital infrastructure cities of its kind, will break ground in the Las Vegas Valley in December.
The net-zero buildings within their own insular mini-city will feature automated multifunctional designs, renewable energies from solar/wind/water/kinetic, autonomous vehicles, artificial intelligence (AI), augmented reality, Internet of Things (IoT), robotics, supertrees, and self-healing concrete structures.
Sponsored by Bleutech Park Properties, Inc., this project will cost more than $7.5 billion upon completion in six years.
Bleutech Park will feature a mixed-use environment with workforce housing, offices, retail space, ultra-luxury residential, hotel, and entertainment while using energy generation and storage, waste-heat recovery, water purification, onsite waste treatment, and localized air cleaning, introducing a new high-tech biome to the desert valley.
Photovoltaic (PV) glass will be utilized in all structures, turning entire building exteriors into single solar panels, committed to zero-carbon emissions and harvesting solar energy for use, and providing 100 percent grid-independence.
"In summary, these new technologies could create close to a super-workforce of the future," said Bertrand Dano, CTIO, Bleutech Park Properties, Inc. "Robotics will be an essential part of the technology ecosystem providing 365/24/7 security using biometrics and other state-of-the-art technologies, adding an unsurpassed level of security in real-time, to both residents and visitors."