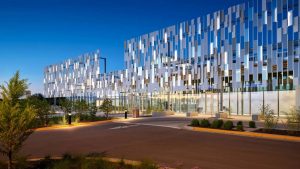 The American Institute of Architects (AIA) and the American Library Association (ALA) have presented five libraries with the 2022 AIA/ALA Library Building Award for excellence in architectural design.
Award recipients demonstrated design achievement, including a sense of place, purpose, ecology, environmental sustainability, and history. This year's recipients, selected by a seven-person jury, exemplify these qualities.
2022 AIA/ALA Library Building Awards recipients:
• Adams Street Library, Brooklyn, New York, Work Architecture Company (WORKac): Adams Street Library, the Brooklyn Public Library system's first new branch in more than two decades, was designed through extensive architect-led community outreach in several diverse Brooklyn neighborhoods and housing authority developments. With children at the center of the design intention, the library is rife with spaces for learning and features technology and a wealth of programming opportunities for teens and young adults.
• Asante Library, Surprise, Arizona, Richärd Kennedy Architects: This new 929 m2 (10,000 sf) library, sited on a 5 ha (12 acre) park in Surprise, Arizona, was built to accommodate a growing community while framing views of the state's White Tank Mountains. Through its design, the building emulates the interplay of sunlight and shadow one might experience while resting beneath a desert tree.
• Cruzen-Murray Library, Caldwell, Idaho, Richärd Kennedy Architects: True to the College of Idaho's vision for the space, the school's new Cruzen-Murray Library is a light environment giving students the sense of being surrounded by something much bigger than themselves. The library eschews the cloistered spaces for quiet learning found throughout traditional academic libraries, embracing instead a dynamic space which offers students ample opportunities for intellectual exchange.
• Indian Creek Library, Olathe, Kansas, Gould Evans: Indian Creek Library, through its programming, evolves the traditional library concept to meet 21st century needs. It focuses on content creation instead of consumption, and patrons are greeted with a makerspace, cafe, conference center, and a flexible workplace environment upon entry. More traditional library elements, chiefly reading spaces, can be found deeper inside.
• Martin Luther King Jr. Memorial Library, Washington, D.C., OTJ Architects: As the highlight of the Washington, D.C., public library system's ambitious initiative to renovate its aging infrastructure, the Martin Luther King Jr. Memorial Library offers a new sense of purpose in the age of digital information. The library's landmark structure, originally designed by Ludwig Mies van der Rohe, has been transformed from a 1970s cultural complex into a socially sustainable engine which drives the important exchange of information.
See the projects' complete information here.