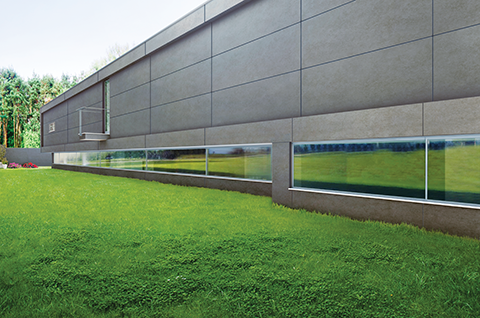 Specifying
Since thin tiles do not yet have an ANSI or ISO designation, they are typically specified using an open proprietary specification method that lists the manufacturer, product line, style, color, facial dimensions, and thickness. In the current market, there are enough importers to have an open specification that provides more choices and a competitive specification.
The 5.5-mm (1⁄4-in.) tiles—and thicker—are best for floor applications. While all the tiles can be for walls, the 3-mm (1⁄8-in.) and mesh-reinforced 3.5-mm (1⁄8-in.) thin tiles are generally only used vertically. Most interior installations can be successfully completed with sizes up to the full panel. Direct-bonded exterior installations can be constrained by building codes and the practicality of installation of large panels in high temperatures, wind, and other environmental conditions that can impact the setting materials. Generally, exterior façades are recommended at 1 x 1 m (3 x 3 ft) and smaller sizes.
Increasingly, thin tiles are being specified in places where tile has not historically been found. These locations include:
monolithic countertops;
furniture facing;
stair risers;
elevator cabs;
recreational vehicles;
boats; and
other places where weight and thickness are limiting factors for the finished surface.
It is important to check with the tile manufacturer to ensure the correct product is being specified for the service environment.
Handling
When full thin-tile panels are being used on a jobsite, accommodations for moving and handling them will be required. For example, standard-length forks on fork trucks will not reach far enough beneath the crates—they will bend, which can crack or break the tiles. Since the tiles are reinforced with mesh, the cracks may not be recognized until the tile is in place. Freight elevators may also not be large enough to handle the crates or individual tiles.
Sufficient room to move and store the tiles must be factored in at the jobsite. Aisles must be clear and staging areas ready before unloading. Removing the tile from the crates safely requires use of special suction-cup frames, which also helps with back-buttering the tiles and positioning them on the wall or floor.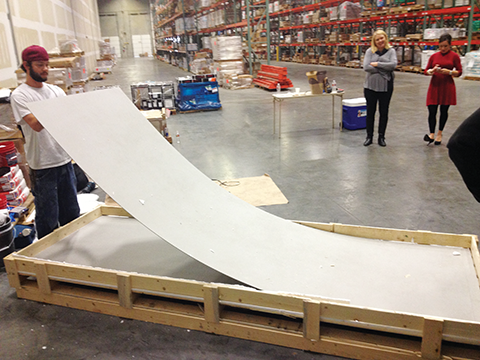 Photos courtesy MAPEI
Numerous labor-saving tools for large, thin tiles—such as corner protectors and rolling frames—are also available from tool manufacturers. It is important to remember a typical tile-installer will not know about, or have, these tools unless they are familiar with the thin tile products and have received some training.
Cutting
Most thin tiles can be cut with 'score-and-snap' type of cutters. Successful cutting requires having the correct cutters on hand and practice using them. Other cuts can be made with diamond drills, diamond-tipped hole saws, and angle grinders. Cuts should be made before mortar application and the tile 'dry fit' for accuracy. Once mortar is applied, it is not easy to move a tile for adjustment.
It is important to wear the proper personal protective equipment (PPE) to work with the tile. The tile supplier should have documentation spelling out what is required but, at a minimum, an installer will want gloves that can protect the hands from the irritation of fiberglass particles from the backing and sharp edges from the cuts. Once cuts have been made, one of a number of diamond-impregnated sponge sanding blocks can be used to remove the sharp edges.
Bonding
The most challenging application for thin tiles is as a high-traffic floor covering. For floors, the key is support in the form of maximum contact between the tile and the substrate. Thin body tiles will not compensate as well as thicker tiles for voids and gaps below the installation, especially at the edges. A recommended substrate flatness of 3 mm in 3.05 m (1⁄8 in. in 10 ft), and no more than 2 mm (1⁄16 in.) in any 600-mm (24-in.) span is best for this material.
For concrete substrates, that typically means a self-levelling underlayment will be required to flatten the floor. For installations over backer boards, plywood, and other tile-manufacturer approved substrates, the same flatness requirements should be observed, and a loaded deflection of L/720 is recommended.