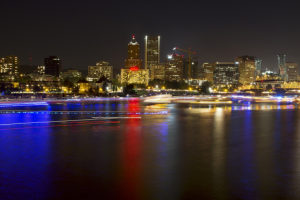 In May 2018, the International Living Future Institute (ILFI) is organizing its annual Living Future conference. A global community of change-makers is expected to converge in Portland from May 1 to 4 for one of the world's leading events in regenerative design. The theme for 2018 is 'Authenticity and Action.'
Raj Patel, research professor in the LBJ School of Public Affairs at The University of Texas (Austin), and Terry Tempest Williams, writer, are the keynote speakers. The conference, which will be held at Oregon Convention Center, will cover a range of topics, including:
"(Don't) Build It and They Will Come;"
"Net Positive Water Buildings;" and
"Opportunities for Innovation: Green Chemistry Challenges For Building Products."
On Friday, May 4, a panel discussion will be held on "Right 2 Root: A Community-centered System for Equitable Development in N/Ne Portland." Speakers include Cat Goughnour (Radix Consulting Group), Charles Kelley (ZGF Architects), Grayce Bentley (Healing Hues), and Gabrielle Riley (ZGF Architects).
For more information, e-mail LF@living-future.org. To register, click here.