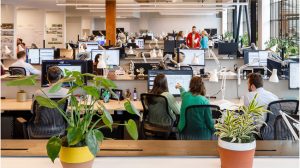 Mahlum Architect's new studio is the first Living Building Challenge (LBC)-certified project in Portland, Oregon.
As a certification program, LBC by the International Living Future Institute (ILFI) is one of the most rigorous sustainable building programs in the world. It defines the most advanced measure of sustainability—providing a framework for design, construction, and the symbiotic relationship between people and all aspects of the built environment.
When designing their Portland studio, architects at Mahlum (a Pacific Northwest firm with offices in Portland and Seattle) made the choice to pursue LBC certification, and lead with their values in hopes of transforming both the firm's practice and place—and in doing, create a path for others to follow, the firm said in a press release.
Specifically, the studio received Petal certification which requires meeting the guidelines of the Materials Petal, widely acknowledged to be the most difficult LBC Petal, given the realities of the construction industry and the traditional design process.
Additionally, the project met the guidelines for the Place, Equity, and Beauty Petals, while also fulfilling imperatives from the Health & Happiness Petal.
Achieving each of these Petals required input from Mahlum's staff, the design team, and strategic project partners, notably Perlo Construction, Sustainable Northwest Wood, Salvage Works, and local artist Paige Wright.