by John Kim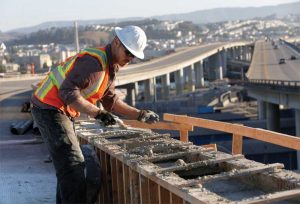 Concrete is the most widely used building material in the world, according to the Royal Society of Chemistry (RSC). However in recent years, it has come under scrutiny, with many parties questioning its sustainability. Chatham House, a world-leading policy institute, calculates that the 4 billion tons of cement produced every year (to be used as a binder in concrete) contribute around eight percent of global carbon dioxide (CO2) emissions. Further, installed concrete has historically suffered from performance issues, notably cracking.
The widespread use of concrete has now spurred extensive research into how it can be improved, leading to numerous innovations in its composition and manufacture. Recent developments have focused heavily on making concrete more 'green.' Cement alternatives, in particular, are now available to improve both the sustainability and performance of finished concrete. An example is calcium sulfoaluminate (CSA), a single hydraulic material manufactured with limestone, clay, and gypsum. The amount of limestone required for CSA is relatively small. Since limestone is the primary source of CO2 during the chemical sintering process, this reduction leads to a decline in the amount of gas released into the atmosphere. CSA has more alumina and less calcium oxide and silica than traditional cement and its clinker phases form at lower kiln temperatures. These factors combine to make the production of CSA cement energy efficient with improved CO2 emissions.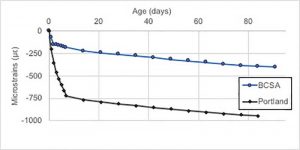 CSA cement concrete experiences rapid precipitation of ettringite mineral crystals forming an interlocking matrix. This produces considerable early strength. While CSA cement concrete requires a typical amount of mix water to ensure workability, the ettringite crystals in it bind the free water, thereby avoiding bleed and reducing concrete shrinkage and related cracking.
Belitic CSA cement concrete—a rapid-setting material containing CSA as a minor phase and belite (dicalcium silicate) as the major phase—was developed in the early 1970s in the United States. Following the formation of ettringite during early hydration, the slowly crystallizing belite contributes to long-term strength gain in the concrete.
BCSA concrete exhibits shrinkage as low as 200 microstrains at 28 days, without the use of shrinkage-reducing admixtures. Standard drying shrinkage tests such as ASTM C596, Standard Test Method for Drying Shrinkage of Mortar Containing Hydraulic Cement, have demonstrated BCSA exhibits about a third of the drying shrinkage of Type II Portland cement. Setting times can be as short as 20 minutes and compressive strengths of 31 MPa (4500 psi) can be achieved in an hour. Silicates, which hydrate to form a dimensionally unstable gel-like substance, are also reduced when using BCSA. Most Portland cements contain about 70 to 80 percent by weight of silicates, but BCSA cement contains only 45 percent by weight (Figure 1).
The California Department of Transportation (Caltrans) first used BCSA cement concrete for highway repair in 1994,  the Northridge earthquake. The project was finished weeks before the estimated completion date. The success of the application led Caltrans to use BCSA cement concrete for its individual slab replacement program, which requires the overnight replacement of damaged sections of concrete highway pavement. Since 1994, the state has placed an estimated 1609 lane-km (1000 mi) of BCSA cement concrete.
BCSA cement concrete's rapid-setting characteristics allowed it to enter the marketplace. However, with the passage of time, it is becoming apparent another advantage is the material's durability.