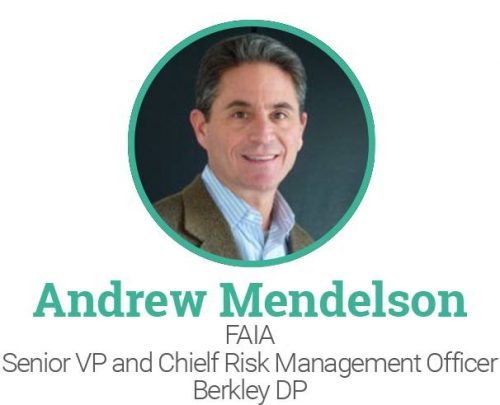 Sharpen your skills in construction risk identification, assessment, mitigation, and monitoring by joining your peers at the Construction Specifications Institute (CSI) Academy in Chicago on April 26 and 27. Learn from experts and share your experiences through interactive online and in-person sessions. This one-and-a-half-day conference features two tracks of focused educational content: Project Conception and Project Execution.
Andrew Mendelson, a long-standing leader on the AIA Documents Committee and senior vice-president/chief risk management officer for Berkley Design Professionals, will offer his expertise in design risk management as a workshop moderator. Mendelson will identify a number of key risks that specifically affect building projects in the design and conception phase.
Participants will gain a greater understanding of the types of risks that affect successful delivery of design and construction documentation to the construction team. Attendees will also begin to compile a list of potential risks and corresponding impact on project team members and the project's overall delivery.
CSI asked Mendelson what else Academy attendees can expect to learn from his presentation.
Why is your presentation so relevant to AEC professionals right now?
Now more than ever, there is an expectation for project owners to provide excellent, speedy project delivery. As such, it is critically important for AEC professionals to develop and establish effective business practices centered around risk management planning and implementation strategies. A holistic approach to risk management—one that incorporates practice, project, financial, team, and quality management—can be beneficial. My workshop will identify essential components of a risk management plan for AEC firms and encourage a collaborative approach between design and construction professionals, contractors, suppliers, and owners to facilitate project success in a cooperative team environment.
For Academy attendees, how will your expertise expand their working knowledge of the critical steps in construction risk management?
Risk management is a broad topic, but I have knowledge gained by years of experience and expertise working as a practitioner. I will share my perspectives of AEC practice, reflecting on my more than 35 years of experience as a project and firm leader in a multidisciplinary A/E environment across a wide range of institutional, governmental, and corporate/commercial projects. I hope to facilitate a better understanding of the roles and responsibilities of the project participants (owner, A/E, contractor/CM), contractually and practically, in managing design and construction risk.
How will it inform individuals who are implementing a risk management plan?
In addition to outlining and providing guidance on the recommended seven components of risk management framework, I will share practice tools/templates and recommendations for their implementation as reference. These tools will help attendees establish and develop a risk management plan for their firms.
What are your key takeaways for how AEC professionals develop real-world strategies for addressing risk management in their projects, from risk identification and assessment to methods of mitigation and monitoring existing risks?
The implementation of design and construction projects is a team sport. A holistic approach is necessary within the current environment, which includes increased challenges relating to project complexity, as well as property owner expectations.
I believe that the AEC industry is better served by utilizing the principles of integrated project delivery (IPD). The practice of engaging key members of the team early on in project development enables A/Es and owners to make better-informed and timely decisions to facilitate enhanced schedule, budget, and quality control. This approach mitigates risk throughout the project, which enables fulfillment of owner expectations and promotes greater satisfaction of all project team members.
To read more about CSI Academy, click here.