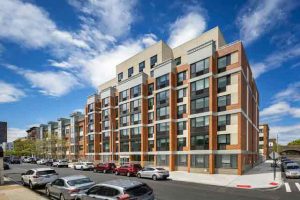 RKTB Architects's design for a new sustainable supportive housing project for homeless and low-income seniors pays tribute to the former site of beloved Our Lady of Loreto Catholic Church in Brooklyn, New York.
RKTB Architects, P.C., partnered with nonprofit developer-operator Catholic Charities of Brooklyn & Queens to create the 7,710-m2 (83,000-sf) energy-efficient, eco-friendly, eight-story multifamily residence, named Pope Francis Apartments.
The residence's green design strategies include a rooftop solar energy installation to reduce reliance on electricity from the grid, a high-performing building envelope aligned with thermal efficiency goals, water-saving, and LED fixtures, and low- and zero-VOC materials and finishes. This makes it conform to Enterprise Green Communities Criteria, a comprehensive green building framework specifically designed for affordable housing.
The project team also endeavored to treat the site with sensitivity to the community, which keenly felt the loss of the locally beloved church. In doing so, RKTB closely collaborated with Catholic Charities of Brooklyn & Queens to be sensitive to a sacred site and bring in and highlight those elements which serve and strengthen the community.
"After the Brooklyn diocese closed the church in 2009, people rallied behind various efforts to save it," said Nelson Vega, associate principal with RKTB and one of the project leads. "We considered it part of our mission to redevelop the site in ways that would help heal the community."
To meet diocese's wishes, the ground floor features two community rooms, one for residents of the building and another for the greater community. The design also features aesthetic choices intended to restore and enhance neighborhood pride. The building's façade is articulated in segments referencing the adjacent Baretta Apartments (also designed by RKTB), creating a consistency by using a similar materials palette to blend in with the architectural context of the block. Mural-size photographs of Our Lady of Loreto grace the side of the building at street level as well as in the lobby, while the grand statue of "Our Lady" previously on the church entrance has been preserved and reinstalled on the site.