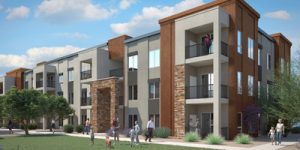 A new multifamily housing complex called Copa Flats has broken ground in Maricopa, Arizona.
The project will be the sixth endeavor between partners Big-D Construction and Real Estate Equities. Arizona-based Johnson Carlier, an independently managed part of the Big-D family of companies, is the general contractor on the project. Kaas Wilson Architects is the architect.
The 312-unit development will focus on sustainability, with features including photovoltaic panels on 300 canopies, reserved parking for low-emission vehicles, recycling, live vegetation walls, and alternative rainwater harvesting.
The complex will also offer a resident amenity club room, a 24-hour fitness center, a yoga studio, a kids' playroom, a dog wash, a resort-style pool, a grill patio, fire pits with seating, a yoga turf area, a dog run, and additional grilling stations throughout the site.
"We are excited Real Estate Equities is bringing the team of Big-D Midwest and Kaas Wilson Architects, which has proven to be successful, as they enter the Arizona market," said Kris Lynn, director of business development for Big-D Midwest. "Having a well-established office within the Big-D Family of Companies in Arizona like Johnson Carlier Construction strengthens our bandwidth as Real Estate Equities expands their footprint into that market."