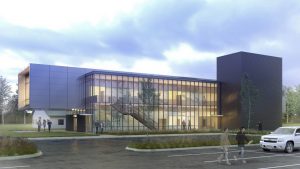 Architecture firm SRG Partnership has designed a new marine science building for Clatsop Community College in Astoria, Oregon. 
The 1440 m2 (15,500 sf) Maritime Science Building will house classrooms, offices, conference spaces, and other instructional and building support spaces for the college's maritime science, coastal resources, environmental studies, scientific research training, manufacturing technologies careers, and technical programs. 
SRG Partnership's design will integrate the building into the existing Marine and Environmental Research and Training Station (MERTS) campus and its natural surroundings, while also creating a destination and arrival point which strengthens the sense of place and the maritime identity. As the portal to the campus, the atrium will invite views in for people arriving and views out for students and staff completing training courses.  
The building's design evokes the feel of a working ship with exposed steel, mechanical systems, and stairways, highlighting the hands-on ethos of the training program. The structure and interiors will feature exposed mass timber to convey the atmosphere of a ship, as well as honor the region's timber industry. Additionally, the span of mass timber will eliminate internal columns, leaving the space open and adaptable as programming needs evolve. Moving through the building will feel like navigating the bridge on a maritime vessel.