by Ryoko Morita and Hirokazu Shibata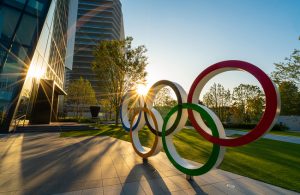 Sport. Science. Sustainability. High-performance building solutions are working behind the scenes of many of the Olympic Games venues in Tokyo—new and existing—to help insulate, seal, connect, coat, protect, and deliver sustainability gains long after the closing ceremonies.
The modern Olympic Games have left a lasting legacy of athletic achievements and global unity for centuries. Today, companies are contributing materials science expertise and innovative thinking to drive changes to leave a positive legacy beyond the world of sport.
The Olympics was originally scheduled to take center stage in July, but it has now been postponed to 2021. The International Olympic Committee (IOC) wants the games—still to be called the 2020 Tokyo Olympics—to be held "not later than summer 2021."
The games will once again shine a spotlight on this second-time host city, while uniting the old with the new through the city's infrastructure. With construction well underway, a total of 43 venues will be used for Tokyo 2020—including eight new permanent structures, 25 existing venues retrofitted from the Olympic Games Tokyo 1964, and 10 temporary sites, which will be located in two zones that symbolize the legacy of Tokyo 1964 and the future of Tokyo's urban development.
The 1964 venues, noted for their classic architecture, will highlight Tokyo's heritage and history, while playing a major role in meeting sustainability goals set forth by the Tokyo Organizing Committee of the Olympic and Paralympic Games. One of the most iconic structures to be repurposed is the Nippon Budokan martial arts center, where judo was hosted in 1964. The octagonal building, which has served as a concert venue in recent years, will once again be revived as a martial arts venue in 2021 to host both judo and karate.
The Nippon Budokan martial arts center was repaired with acrylic emulsions for interior wall coatings to provide excellent adhesion and long-term durability, shielding the surfaces from corrosion and moisture damage. Glycol ethers used in the water-based coatings system optimizes stability and performance of the coatings, while also meeting the regulatory requirements for low volatile organic compounds (VOCs) . The coating system with glycol ether was also applied for Tokyo Stadium, which is being repurposed from its 1964 roots in football as the planned home for football, rugby, and modern pentathlon competition for Tokyo 2020.
Built on the same site where the National Stadium once stood, the Olympic Stadium will house the opening and closing ceremonies of the games, athletics, and football. This new arena is enhanced with polyether polyols, used to produce low- to high-density foams. Used as sealants, this foam helped fill gaps between the building materials and is designed to help keep the stadium safe and stable by decreasing the risk of deformation caused through the expansion of concrete under high temperatures.
For fans who will be watching the ceremonies and sporting events from their homes, wire and cable technologies provide better signal transmission and strength and consistent network performance so broadcasting can be done without interruption. In the venue, polyolefin elastomers were used as insulation layers for 70 km (43 mi) of low- and medium-voltage cables to help deliver reliable power.
Each of the sustainable solutions are designed to extend the life of the Olympic venues so they can serve Tokyo now and in the future, long after the games have concluded.
Ryoko Morita joined Dow in 2014 as TS&D for performance plastics. She has been the commercial manager for Tokyo 2020 since 2018, successfully making more than 45 wins for Tokyo 2020 infrastructure projects, more than 20 non-infrastructure wins in collaboration with customers. She has an MS in chemistry from the University of Tokyo and OMBA from Temple University, Philadelphia, Pennsylvania.
Hirokazu Shibata is the technology & sustainability leader for Asia Pacific within Dow Olympic & Sports Solutions. He plays essential roles to establish partnerships and develop new projects with customers and value chain partners, while engaging key stakeholders, such as the International Olympic Committee (IOC) and the Tokyo 2020 Organizing Committee. Shibata joined Dow in 2007 in the Netherlands, and experienced various roles in corporate and business R&D. He has a PhD and an M.Sc. (Ir) in chemical engineering from Delft University of Technology in the Netherlands and a B.Sc. in Industrial Chemistry from Kyoto University, Japan.