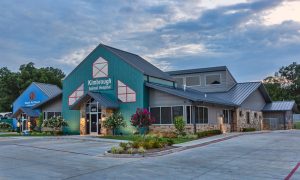 The new Kimbrough Animal Hospital in Longview, Texas, was born of tragedy. An overnight fire destroyed the hospital's previous building and killed animals sleeping in the kennel area. In the plans to rebuild, the owners wanted a high level of fire protection and also a design reflecting the area's agricultural heritage. Metal roof and wall panels helped with both these goals.
Ron Mabry Architects designed the new building. For aesthetic purposes, the owners wanted an exterior that looked friendlier than concrete blocks. The architects decided to design the hospital as a barn.
"When we started designing the building, we looked at what people relate to, regarding animals—that was the primary emphasis on the form," said Ron Mabry, adding metal panels were a natural choice, both for the roof and exterior walls. "Number one, for their durability and, again, they relate to an agricultural facility."
The façade uses a mix of 488 m2 (5250 sf) of 0.24-gauge flush wall panels in slate gray, teal, and Berkshire blue, plus 409 m2 (4400 sf) of 0.24-gauge panels in slate gray. For the roof, 1672 m2 (18,000 sf) of 0.24-gauge panels in charcoal was used.
"We wanted bright colors, a positive, fun approach—something that would really catch views from the street," Mabry said.
The installer on the project was Curtis-McKinley Roofing & Sheet Metal, also based in Texas.