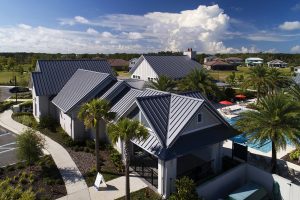 The new Arbor Grande residential development within a planned community in Florida offers a number of residents-only features within its gated confines. The 650-m2 (7000-sf) clubhouse and fitness center reinforces a relaxed coastal vibe with a design that draws on the Gulf Coast vernacular, which includes distinctively ribbed metal roofing.
The new development will eventually include 305 single-family homes, designed to promote what developer Lennar Homes calls a "front porch way of life." This kind of summertime-year-round lifestyle appeal also informs the new clubhouse and amenity building.
Florida-based Ervin Lovett Miller (ELM) designed this new community-oriented facility. The facility includes the main clubhouse, which is linked by breezeways to facility offices, along with a separate covered pavilion. The compound serves as a local gathering place, with a serving kitchen for residents' functions and a screened-in seating area for taking in the views of an infinity-style swimming pool and a freshwater pond beyond. The 1394 m2 (15,000 sf) of 24-gauge steel roofing panels add more than just the flavor of Southern hospitality in this context. They also serve to visually connect these three separate structures.
"It was the look and the durability of it we liked," said Michael Montoya, ELM associate, describing the selection of zinc-finished panels for the project. "The siding was board-and-batten, and we wanted to give the building a farmhouse look—metal roofing creates a very crisp look."
Installation by the roofing division of Florida's Thomas May Construction preceded smoothly, Montoya said. Though the pavilion structure took a little extra detailing to address a 'Boston hip' intersection of a gabled dormer meeting the hipped roof, the architect calls this a pretty straightforward installation.