by Mitchel Taylor, CSI, CDT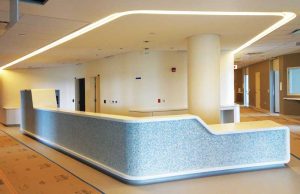 Architectural woodwork has been around since the beginnings of human civilization, for both decorative and practical uses. Traditional construction methods and design evolved to cope with variable conditions, specifically wide swings in temperature and humidity. As interior environments are increasingly controlled, it has become possible to ignore some of the more traditional rules of design; sometimes successfully.
Materials have also changed, with engineered woods, laminates, solid surface materials, and metal laminates added to the mix. All these materials expand and contract with changes in the environment, each according to its own rules. Now, as energy conservation and green building practices are becoming more important, indoor temperature and humidity are being allowed to vary more freely. This brings old considerations for millwork construction back into play, and both design and material selection must be adjusted to compensate.
Environmental control in buildings has been with us since the first people put a fire in their hut. The Egyptians created wind catchers to channel airflows as far back as 2600 BC. They also used evaporative cooling by hanging wet mats over doorways. Sophisticated central heating systems were used by the Greeks and Romans in their baths and high-end villas. Warm air heating, using ducts to transfer heat to other locations went mainstream in the 19th century, and in the early 20th century, mechanical air-conditioning systems were developed. When combined with central heating systems, building temperatures could be held within a specified range.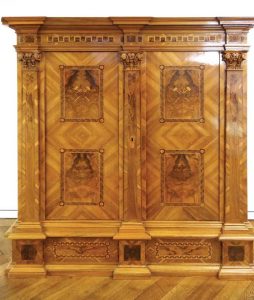 In recent years, energy use has become a major issue, both for economic and environmental reasons. In some areas there is a push for net-zero buildings, which balance the energy produced onsite with the energy used. HVAC systems have been rethought, with the use of on-demand systems and natural ventilation. Wind catchers have been updated, with microprocessor control, passive airflow systems, and increased use of ambient air. This trend is a departure from the tightly sealed and controlled building environments of the last decades.
These changes in HVAC solutions impact contemporary millwork design and fabrication. The common factor in most low-energy systems is a wider range of temperatures and relative humidity (RH) over time within the building. This leads to greater movement in the materials making up cabinets and millwork; this greater range of movement must now be allotted for in the design, construction, and installation of these pieces.
This should not discourage the inclusion of architectural millwork; fine woodwork dates from well before the introduction of HVAC systems and closed buildings. Traditional construction methods and design allowed for movement to occur and provided locations for concealing or minimizing visual effects. For example, the cabinet in Figure 1 dates from 1780, well before there was effective climate control. The panels are made with solid lumber cores with relatively thick veneer faces. There are many buildings all over the world with paneling, trim, and cabinetry dating from the 18th and 19th centuries. They require periodic maintenance but can hold up for centuries to come.