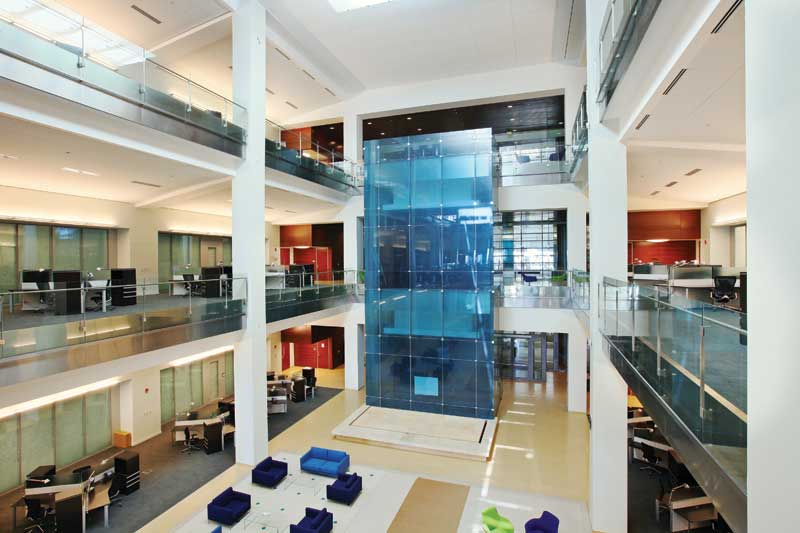 by Holley Henderson, LEED Fellow
For nearly 20 years, the U.S. design and construction community has largely focused on single-dimension green attributes of building materials. Most practitioners, with hurried schedules and product specifications up to their eyeballs, look for two primary green features—recycled content and low-emitting materials. However, that is now changing.
Unsurprisingly, recycled content and low-emitting materials are currently the most commonly sought Materials & Resource (MR) and Indoor Environmental Quality (EQ) credits in v3 of the Leadership in Energy and Environmental Design (LEED) program. A simple concept, recycled content in particular is a smart, strategic start; it is easy to visualize and comprehend. In the very near future, however, design professionals will need to know much more about what makes a product truly sustainable.
This article uses a Ps and Qs motif in its focus on resilient floorcoverings and life cycle; it combines eight 'Ps' for consideration, along with questions (i.e. 'Qs') for design/construction professionals to ask themselves or manufacturers when selecting these products.
Perspective
Thanks to the U.S. Green Building Council's (USGBC's) juggernaut of influence, LEED has more than met its goal of market transformation since it was introduced 16 years ago. However, there is currently a shift underway to LEED v4, which is estimated to change more than 40 percent of the technical requirements. With LEED v4, specifiers will no longer be able to dismiss the entire product life cycle. One of the best ways to quickly assess life cycle impacts is via Environmental Product Declarations (EPDs).
The U.S. industry is saturated with the original concepts, making now a good time to upgrade the one-dimension 'silo' paradigm. The February 2016 issue of USGBC+ reported "about 44 percent of all square footage pursuing LEED certification [is] falling outside the U.S. That growth is not confined to one or two specific geographic regions or economic zones, but is spreading far and wide globally." LEED v4 brings the bar up and gives a common goal to the building industry worldwide.
Overall, the global community has deeper roots in understanding and holding a higher standard for green building. For example, 10 years ago, European countries developed the Registration, Evaluation, Authorization, and Restriction of Chemicals (REACH) standards to address the impact of chemical production and use on human health and the environment. Hoping to create a similar organization or standard in the United States, USGBC has made REACH one of the new compliance paths available only to international projects in LEED v4 MR Credit, Building Product Disclosure and Optimization–Material Ingredients (Option 2). This allows products to be eligible for credit if the ingredients do not meet REACH criteria for "substances of very high concern." The behemoth 'market transformation ship' is slowly making the turn to life cycle thinking and health. What exactly does this mean, however?