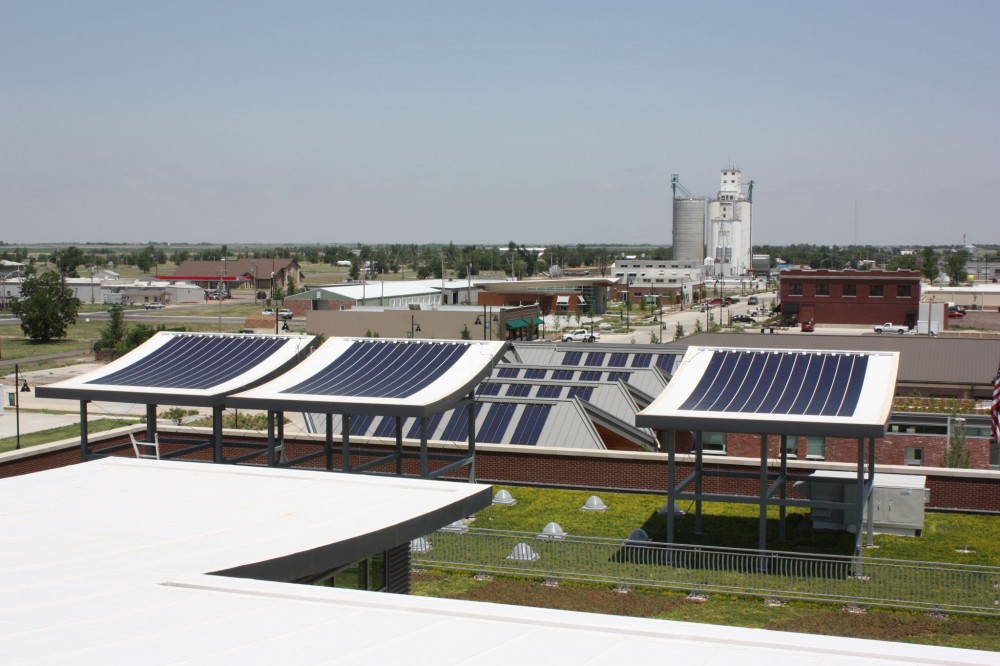 by Michael Russo
Commercial rooftops are an attractive platform for the installation of solar photovoltaic (PV) electricity-producing systems. These low-slope roofs offer an economical and sustainable structural foundation for renewable solar energy.1
For example, one of the largest roof-mounted PV systems in North Carolina has been online for several months at the Old Dominion Freight Line vault logistics facility in Thomasville. Approximately 7700 solar panels completely cover the warehouse's 14,864-m2 (160,000-sf) roof and produce 1.8 megawatts (MW)—enough power to offset more than 90 percent of the building's annual energy costs, according to Jayna Long, manager of sustainability at Old Dominion.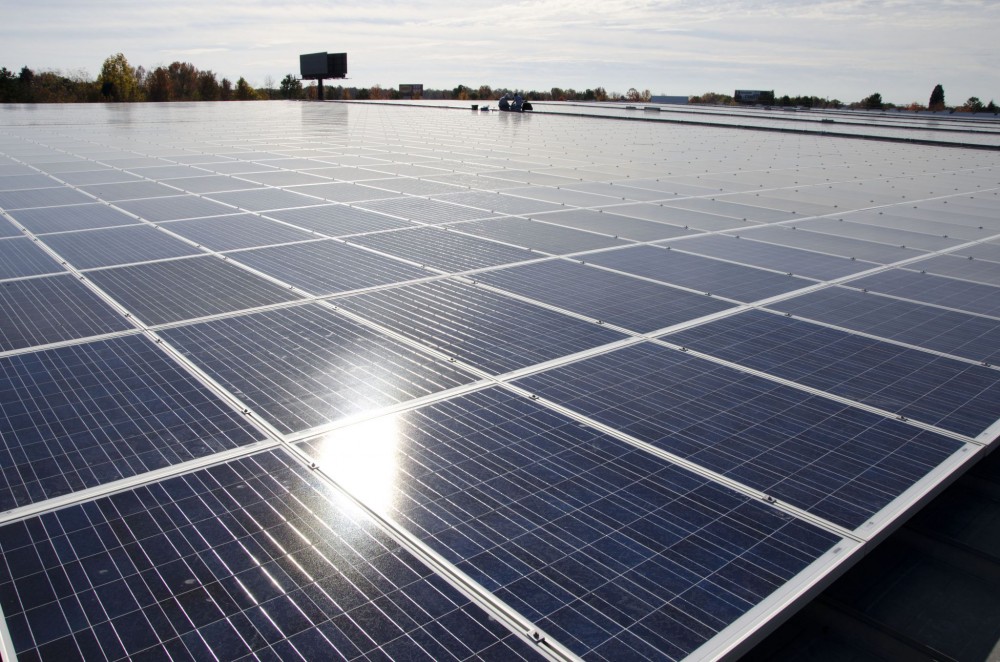 Success stories like Old Dominions are becoming increasingly common nationwide. However, it is important to remember a roof's function is, first and foremost, to protect the building's contents and occupants from the elements. In this regard, design professionals need to anticipate the potential risks associated with the installation of a roof-mounted PV system. This sort of due diligence is particularly important when installing these arrays on existing warranted roofs.
To help in these industry efforts, members of the Single Ply Roofing Industry (SPRI)—the trade association representing sheet membrane and component suppliers to the commercial roofing industry—have developed 'PV-ready' roof assemblies and guidelines designed to provide maximum protection for the roof as well as maintain its warranty coverage.2 
Ask the right questions
The installation of a PV system on an existing warranted roof raises many important questions for the roofing professional and building owner. For example, will the roof accommodate the added weight of the PV array? Logistically speaking, before owners decide on a solar-power system, they need to determine whether their roofs are sturdy enough to support the additional loads of the solar array.
An average solar panel and support system typically adds a minimum of 14.6 to 19.5 kg/m2 (3 to 4 lb/sf) to the existing roof. It is the design professional's responsibility to ensure this additional weight does not exceed the load limits determined by the building's designer.
From an economic (i.e. lifecycle cost) point of view, it makes sense the existing roof membrane's service life will come close to matching the projected service life of the PV system. If not, a complex and costly reroofing project may be required long before the solar panels need replacement. Generally, the underlying roofing system must provide the same minimum investment horizon—generally at least 25 years—to realize the full potential of the rooftop PV system.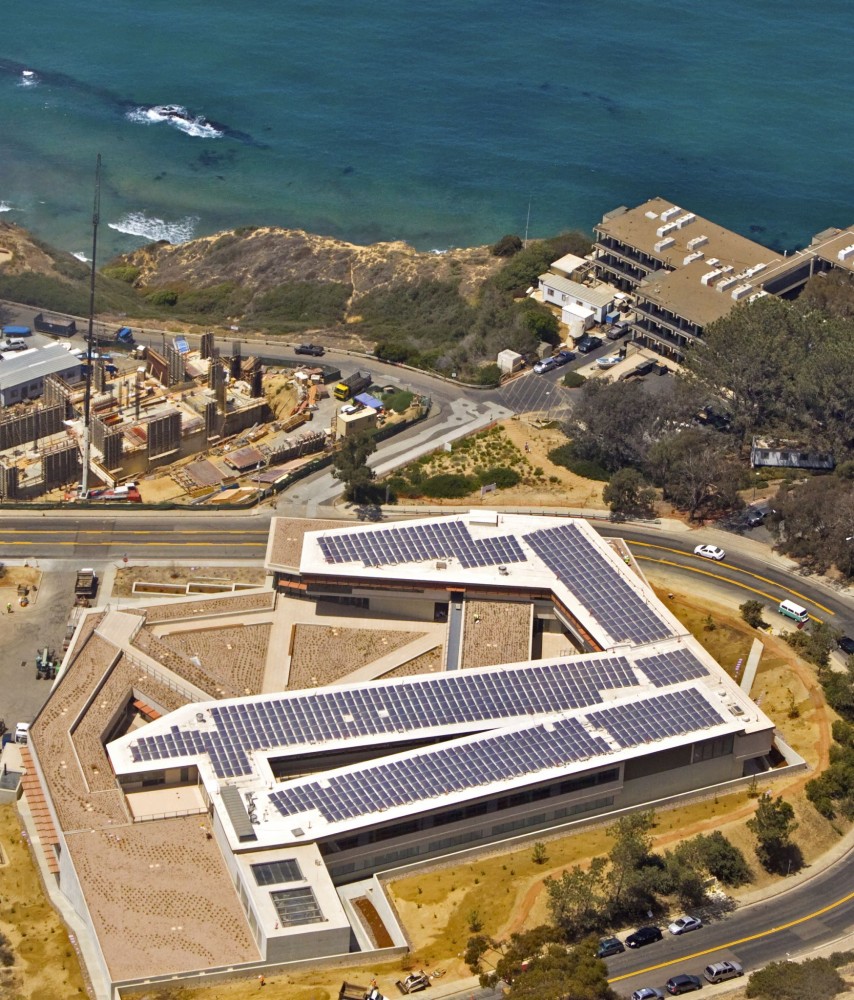 Most PV arrays require penetrating the roof membrane. Even non-rack-type systems can include electrical conduits and wiring that may need to be flashed in a professional manner. It is essential the responsibility for this flashing work rests with the designer or roofing contractor and not the electrical or PV contractor.
It is also important to ensure the positive drainage designed into the existing roof system is not compromised. Using a tapered insulation system or the relocation/addition of new roof drains are two possible solutions, but they both tend to be cost-prohibitive for the property owner. Additionally, an existing drain partially covered by a solar array will make it difficult to clean out.
Roof system wind and fire code approvals have always been active topics within SPRI and the roofing industry at large. The increasing popularity of PV and vegetative roofs add another layer of complexity when attempting to meet codes and standards. In 2010, American National Standards Institute (ANSI) approved the first of three standards for vegetative roofs—ANSI/SPRI VF-1, External Fire Design Standard for Vegetative Roofs—which will also be included in the 2015 edition of the International Building Code (IBC). Further, a second SPRI vegetative roof standard was approved by ANSI in 2010—ANSI/SPRI RP-14-2010, Wind Design Standard for Vegetative Roofing Systems, which provides design guidelines associated with wind uplift and stone ballast scour.
It is likely the roofing industry will also need to investigate and standardize wind and fire code designs for rooftop PV systems. In the meantime, roofing professionals must use care when installing a PV array over an existing roof carrying FM Global (FM) Class 1 or Underwriters Laboratories (UL) Class A wind and/or fire requirements. This would also include any insurer or code body that specifies these two standards. In new construction applications, code compliance is the responsibility of the designer of record. When installing a PV array on an existing roof, specifiers should consult the roof system manufacturer to ensure existing codes are met.
Existing roof system manufacturer guarantees are an equally important topic. On older roofing systems, there may be various manufacturers represented. Even with the popularity of today's single-source system guarantees, these documents must be evaluated in detail with the appropriate approvals given by the issuer of the guarantee.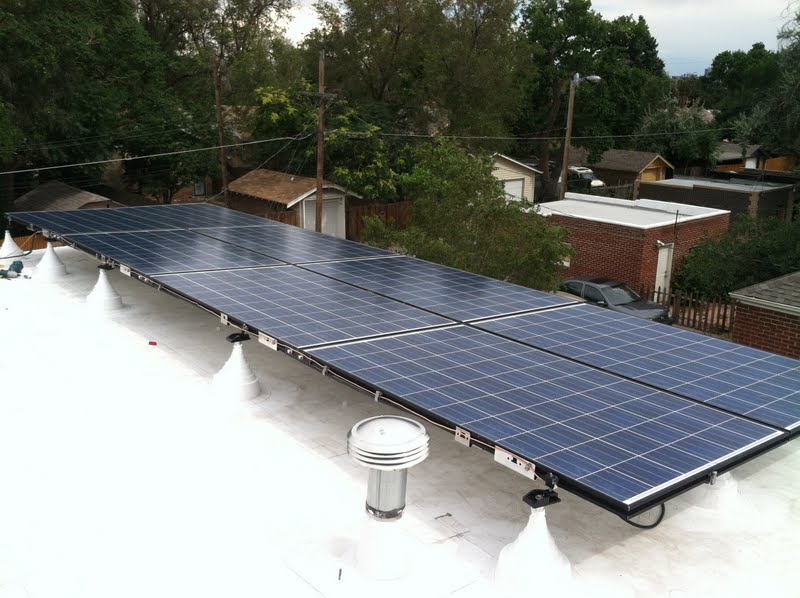 Roof system durability
Roof durability directly affects the sustainability of any roof system; it has become a major factor in the choice of the entire assembly. At the same time, the potential benefits of the rooftop PV system itself offer long-term energy independence and environmental sustainability. Since the unique challenges of matching PV systems to compatible roofing systems are so important, the building owner needs assurance the combined rooftop PV system is designed, installed, and maintained for optimal economic and environmental benefit.
With the installation of rooftop PV, the roofing system becomes more than just a roof—it becomes a permanent platform for the continuous operation, service, and maintenance of the PV system. That is why the roofing system should be designed to minimize the need for major repairs or replacement that could compromise the continuous operation of the rooftop PV.
Many commercial PV roofing installations are financed using long-term Power Purchase Agreements (PPAs). These financial arrangements are made between a third-party that owns, operates, and maintains the PV system and a host who agrees to place the system on his or her property and purchase the system's electric output for a predetermined period. Obviously, the continuous, undisrupted generation of solar power is critical to the fulfillment of the PPA terms. As a consequence, the margin of safety required in the design, installation, and maintenance of the roof may likely exceed normal expectations and minimum standards for commercial assemblies. In this case, the minimum standards would include roofing systems guaranteed for at least 20 years.
Raised-panel and membrane-integrated PV systems often cover most of the roof surface, and both systems require regular inspections and maintenance. Fortunately, today's PV racks can be changed out fairly easily, which can be quite advantageous. Indeed, the frequent need for solar roof inspections and maintenance means the amount of foot traffic on these systems may be far greater than the traffic generated by an occasional piece of HVAC equipment on the roof.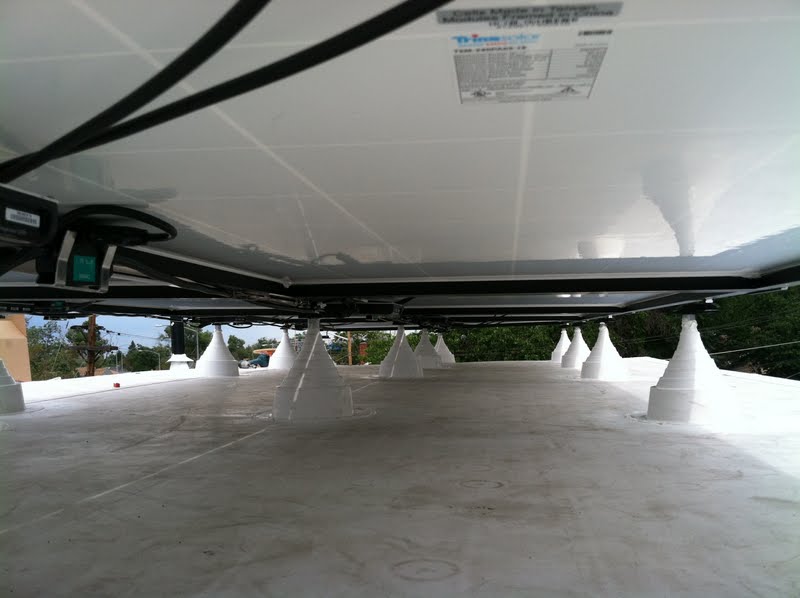 Therefore, the chance of sharp tools dropping onto the roof surface or impact damage from heavy traffic or equipment installation is increased. This is why enhancing the puncture resistance of membranes used with rooftop PV systems can be so important. Solutions may include protective coverboards when practical, or other options for existing roofs, such as roof walkway pads.
In fact, some roof system manufacturers require:
an approved insulation board with a minimum thickness and compressive strength;
the addition of an approved coverboard to enhance insulation protection; and/or
an approved protection/separation sheet installed between the PV components and the membrane.
Protection pads should be large enough and properly secured so they do not move during the roof membrane's expansion and contraction.
Membrane types and thicknesses
A broad selection of roofing membranes and thicknesses are available for consideration when a PV installation is planned. Options include:
ethylene propylene diene monomer (EPDM), polyvinyl chloride (PVC), thermoplastic polyolefin (TPO), ketone ethylene ester (KEE), and smooth and fleece-back membranes;
atactic polypropylene (APP) and styrene-butadiene-styrene (SBS) modified-bitumen (mod-bit) membranes; and
certain types of 'enhanced' membranes engineered for use with PV—these may include special formulations designed to accommodate the additional heat generated by the PV array or other sources.
In approving the installation of a PV system upon an existing warranted roof and maintaining the warranty, membrane manufacturers may have PV system-specific requirements the existing roof must meet, such as:
limitations on the current age of the existing roof;
restrictions on the method of roof system attachment to the structural deck;
restrictions for a minimum approved roof membrane thickness;
pre- and post-solar system installation roof inspections; and
a requirement the building owner make any needed repairs at his or her expense.
It is generally best to contact the roofing manufacturer for help in deciding on the membrane, thickness, and/or existing roof requirements.
Paperwork and project documentation
Roofing manufacturers frequently require project documentation forms be completed before installing a PV system over an existing warranted roof to maintain warranty coverage. For example:
standard pre-installation notice with roof drawings;
PV post warranty alteration form;
completed inspection reports (before and after PV installation); and
overburden (O/B) waiver form completed by the building owner, wherein the owner describes the PV materials to be installed (i.e. the overburden), agrees to pay for their removal when necessary, and accepts responsibility to pay for repairs caused by the overburden removal and replacement.
There are various other general terms, conditions, and suggestions that should be considered when installing PV systems on existing roofs. For example, racks should have enough clearance above the membrane to allow for roof servicing and maintenance. Additionally, PV arrays should be set so all field seams and penetrations are accessible for repair, and areas should be staged for PV materials and installation.
Many roofing system manufacturers offer certain services to design professionals and building owners in addition to the sale of roofing system products. These can include:
solar products;
financial analyses to show return-on-investment (ROI) payback period for a planned solar installation;
specifications and details for the roofing and solar system installations;
solar roof layouts;
a single-source warranty for the roof system and the solar integration; and
warranty insurance that pays for the cost of overburden removal, if needed.
Conclusion
The unique challenges of matching PV solar arrays to compatible roofing systems are so important, the specifier must ensure the combined rooftop PV system is designed, installed, and maintained for optimal economic and environmental benefit.
There is no question partnering with a roof system manufacturer offering PV-ready roofing systems can be a benefit to specifiers. In the case of SPRI, it is important to remember, each member may have its own PV-ready program and no SPRI member may necessarily have all the previously mentioned program elements. The manufacturer of the roof system specified for the project should always be consulted before the installation of a PV system on a warranted roof.
Notes
1 An earlier version of this article appeared in the November/December 2013 digital edition of Carolinas Roofing, now called Roofing. (back to top)
2 For further information, see SPRI's Technical Bulletin 1-13A, "Summary of SPRI Membrane Manufacturer Photovoltaic (PV) Ready Roof Systems and Services" at www.spri.org. The bulletin contains general guidelines from SPRI related to 'PV-ready' roof assemblies. (back to top)
Michael Russo is the former editor of Roofing/Siding/Insulation and has reported on the roofing industry for more than 30 years. He is a regular contributor to Roofing Contractor, Western Roofing, Professional Roofing, Multi-housing News, and various other construction-related publications. Russo can be reached at mrusso1983@zoominternet.net.