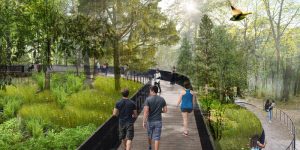 The Minnesota Zoo has embarked upon a project to replace its old monorail system with a Treetop Trail elevated walking route.
Once complete and open by summer 2023, the 2.01 km (1.25 mi) trail aims to be the world's longest elevated pedestrian loop, bringing guests up to 9.75 m (32 ft) above the ground.
This trail will provide access to hundreds of acres of hardwood forest, wetlands, Minnesota wildlife, and animals.
The zoo contracted with Snow Kreilich Architects, engineering firm Buro Happold, and construction partner PCL. The firms are committed to minimizing disruptions to the zoo's animals and guests before, during, and after construction.
The Minnesota Zoo is a year-round destination providing a window into the natural world. With hundreds of species of animals and worldwide conservation efforts, the zoo is a resource to connect people, animals, and the natural world.
"As of today, we have secured more than $30 million, or 80 percent, of our $39 million goal, including philanthropic contributions and public support, which is remarkable," says Minnesota Zoo director and Minnesota Zoo Foundation president John Frawley. "It's inspiring to have this public and private partnership to support the Zoo and the Treetop Trail. We welcome anyone who supports the Zoo's mission, our connection to wildlife and the elevation of Minnesota as a nature innovator to become part of this historic project."