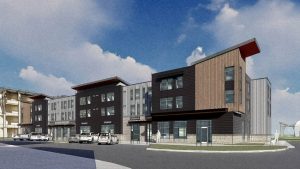 Ground has broken on the Commons, a mixed-use apartment project in Park City, Utah.
The building will be located adjacent to the Newpark Amphitheater, a live music venue, and will have unobstructed views of the 486-ha (1200-acre) Swaner Nature Preserve.
When completed, it will house 38 affordable apartments and approximately 1161 m2 (12,500 sf) of ground-level retail.
With a total building size of 3499 m2 (37,659 sf), the Commons will be the final development in the Newpark Town Center shopping mall's master plan. The affordable apartment component will consist of 18 studios, 14 one-bedroom units, 4 two-bedroom units, and 2 three-bedroom units.
The project has an anticipated completion date of October 2020.