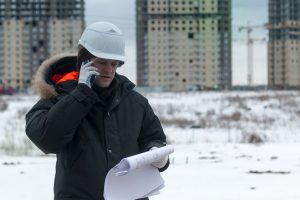 Connectivity and mobile technologies can help contractors gather accurate and timely data from the field, reliably control costs, and more efficiently manage their equipment fleets, according to a new study from Dodge Data & Analytics, in partnership with B2W Software. These improvements are expected to better connect field, office, and maintenance operations to better manage heavy construction projects.
"The Dodge Data & Analytics study confirms that heavy contractors are struggling to capture data and use it to optimize project performance and resources, and that there are significant opportunities for them to improve in these areas through the right technologies and mobile capabilities," said Paul McKeon, CEO of B2W Software.
The study determined that contractors believe a range of current and emerging technologies, from mobile devices/applications for project management to big data analysis, will provide more accurate data from the field, thus improving project management. The study also reported data captured in the field (i.e. information on project/employee performance and safety) must be accurate and timely in order to be useful for effective decision making; however, latency and errors remain a challenge in heavy construction.
"This lag in the exchange of critical data between field and office, and the concerns about its accuracy, seriously interfere with heavy contractors' efforts to improve performance," said Steve Jones, senior director of industry insights research with Dodge Data & Analytics.
The study also found tracking and maintaining fleets in the heavy construction market can be a significant drain on both budget and human resources, with many contractors continuing to rely on spreadsheets and paper for these processes. Contractors employing specialized software, telematics, and mobile applications reported they manage their equipment more effectively, can better optimize resource utilization, and increase equipment uptime.
Dodge Data & Analytics will host a series of webinars exploring these findings. To learn more, click here.