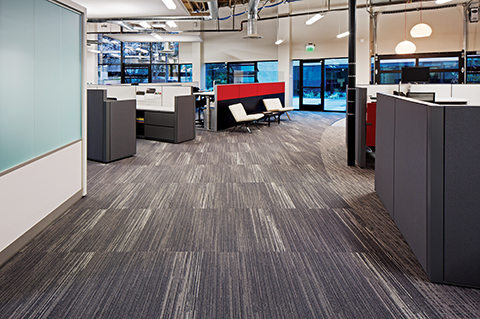 by Bob Reince
From ashlar and monolithic to brick and parquet, carpet tile installation methods offer varied and numerous design aesthetics. The methodology of carpet tile installation was derived in the mid-19th century at a small company just outside Amsterdam, the Netherlands. The company manufactured the world's first carpet tile, which has since exploded into the rapidly growing industry of today.
However, installation methods are not suggestions solely for aesthetic purposes, they are strategic, technical, and integral 'rules' that help ensure the integrity of every modular carpet installation from both design and performance perspectives. This article discusses installation methods, challenges installers and companies face, standard guidelines, and best practices developed by technical experts.
For specifiers, the key to success is being educated on the product and knowing the specific installation techniques that must be used. It is equally important to ensure installers have accurate directives. Unfortunately, many specifiers and installers fail to follow specific manufacturer-issued guidelines, resulting in flawed installations, visually unacceptable seams, and ultimately dissatisfied clients.
The challenge
The misapplication of modular carpet is a serious, industry-wide issue. Installation guidelines are not simply recommendations, but requirements developed to ensure a well-designed outcome aligned with expectations. Contrary to popular belief, not all methods and products are equal—some products can be installed in virtually every method, while others can only use one. Modular carpet installed without the specified methods often ends up necessitating expensive replacements, but these mistakes are avoidable.
Importantly, modular carpet inherently has countless seams. However, some products provide better 'hidden' appearance than others due to the design characteristics, making the tile seams less apparent. The best installation is obtained when the manufacturing company's guidelines are followed—after all, they have a vested interest in their products being represented as best as possible. Prior to the initial installation, the product should be installed in a mockup. These steps confirm whether the selected product is visually acceptable for a particular installation the client desires.
Avoidable truth
With all the readily available information, unacceptable installations still occur due to clients or specifiers not adhering to proper installation practices. Last year, for example, this author was involved in a high-profile project in which a product was incorrectly installed and ultimately rejected. The product clearly had one, and only one, method of installation—quarter-turn (described later in this article). The end-user and architect decided to install the product in a monolithic fashion, against the written instructions. Needless to say, they were not happy when the inherent pattern lines did not properly match.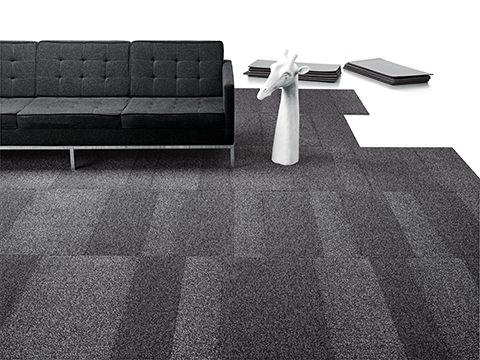 The installation company unsuccessfully attempted to rearrange the tile so the pattern would match. However, they could only get 10 to 15 consecutive tiles of the pattern to match. If this was the criterion, why not install 3.6-m (12-ft) broadloom carpet? Unsurprisingly, that is exactly what the architect used to replace the carpet, at an additional expense of more than $100,000. This situation would have been completely avoidable if the recommended installation method was discussed (and even more importantly, followed).
The standard
The Carpet and Rug Institute's (CRI) Carpet Installation Standard is the basic minimum industry-wide guideline for both residential and commercial settings. It provides a detailed outline of proper procedures and terminology used in commercial specification writing, planning, layout, and installation. The CRI Installation Standard also includes guidelines for floor preparation and installation in special areas, diagrams, and charts.
The CRI Installation Standard represents more than 25 years of information-gathering and installation expertise compiled by the members of CRI's Installation Issues Management Team, comprising manufacturers, and professional installers.
CRI recommends the following as the directive for modular carpet installation:
follow carpet manufacturer recommendations regarding application, squareness, and location
of working chalk lines;
install modular carpet on 90-degree format with corners aligned according to manufacturer specifications;
geometry (e.g. monolithic, ashlar, and quarter turn) is required to be agreed on by all parties before installation begins.
Regarding joints, modules in the completed installation should be tight, but not compressed. To ensure proper spacing when installing modular carpet, the distance covered by 11 modules (10 joints) installed on the floor with no visible gaps, peaks, or overlaps should be measured. Modules should be continually checked to be installed in compliance with manufacturer specifications for a particular product. It is important to ensure yarn is not trapped between modules.