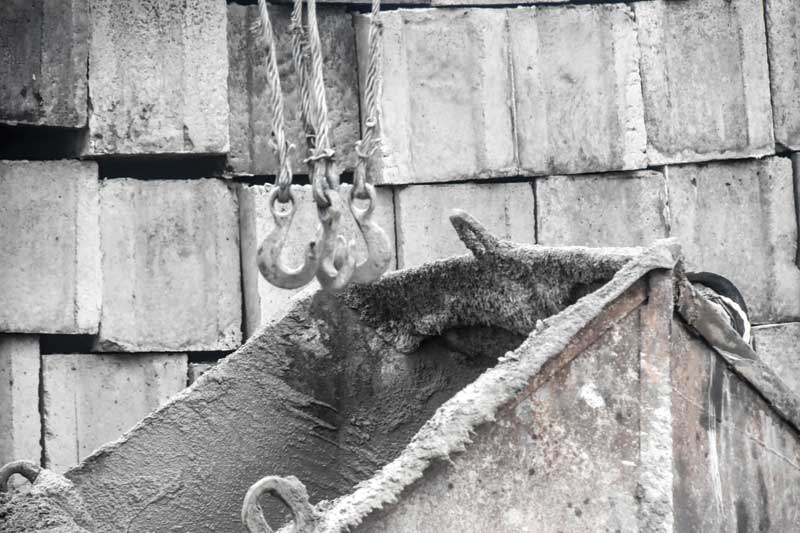 Recommendations
Several technical advisories have been issued to raise awareness about the potential for roof failures over structural concrete roof decks. NRCA's August 2013 Industry Issue Update ("Moisture in Lightweight Structural Concrete Roof Decks") recommends avoiding use of lightweight structural concrete in new construction. The Asphalt Roofing Manufacturers Association (ARMA) has issued a technical bulletin about performance concerns, "ARMA Lightweight Structural Concrete Roof Decks Statement." In July 2013, the Single-ply Roofing Industry (SPRI), Polyisocyanurate Insulation Manufacturers Association (PIMA), and RCI International issued a joint Technical Bulletin—"Moisture Concerns in Roofing Systems Applied Over Lightweight Structural Concrete Roof Decks"—regarding moisture concerns with concrete roof decks.
Although allowing concrete to thoroughly dry is the most appropriate option, this can be reasonably impractical. More realistic ideas that can be implemented are explored in the paragraphs that follow this section.
Vapor retarders on the top surface of the concrete deck
In its May 2017 Technology & Research Update, the Midwest Roofing Contractors Association (MRCA) advises a vapor retarder of less than 0.01 perm is necessary over new concrete roof decks. From a practical standpoint, a vapor retarder of less than 0.01 perm is effectively a vapor barrier—almost no moisture passes through to the roof system above.
There are three classes of vapor retarders/barriers—Class I, II, and III—with each having varying permeability ratings. A Class I vapor retarder has a perm rating of 0.01 to 0.1; a Class II vapor retarder has a perm rating of 0.1 to 1.0; and a Class III vapor retarder has a perm rating of 1 to 10. MRCA is advising to use a better-than-Class 1 vapor retarder over new concrete roof decks because of its ability to prevent moisture from entering the roof system.
This demands a word of caution, however: designers must consider the potential issues with installing a roofing system with a 'double vapor barrier'—one at the roof deck and then the roof membrane itself—as it theoretically does not allow escape of moisture that is trapped in it or gets into the system. A potential solution is to use one-way vents in the roof membrane to allow moisture to escape, but not enter.
Venting bases
Use of a venting base sheet in conjunction with vents and venting edge details (at edges and parapets and penetrations) helps provide a pathway to allow the moisture in a wet concrete deck to escape slowly over time. This follows methods employed when lightweight insulating concrete is installed.
 JUMP
JUMP is an online crowdsourcing hub with 1400 registered users, and is
a portal to collaboration in the buildings technology space. It invites industry partners to share their technical challenges with community members who are invited to submit their solutions, with the best potentially qualifying for cash awards and in-kind technical support to bring their ideas from drawing board to production line.Oakridge National Laboratory (ORNL) partnered with various manufacturers, including this author's employer, to reach out to the technical community through the JUMP program to develop new materials and installation methods that can be employed with a concrete deck to significantly reduce the likelihood of moisture-related problems. The difficulties to consider include vapor drive, cost/ease of installation, attachment methods for the roof system, and how to assess success.Submissions were due in late August. At the time of writing this article,
a number of submissions have been received, and its sponsors are hopeful a novel idea will be brought forward and make its way to the commercial market. More information can be found at www.jump.ideascale.com.