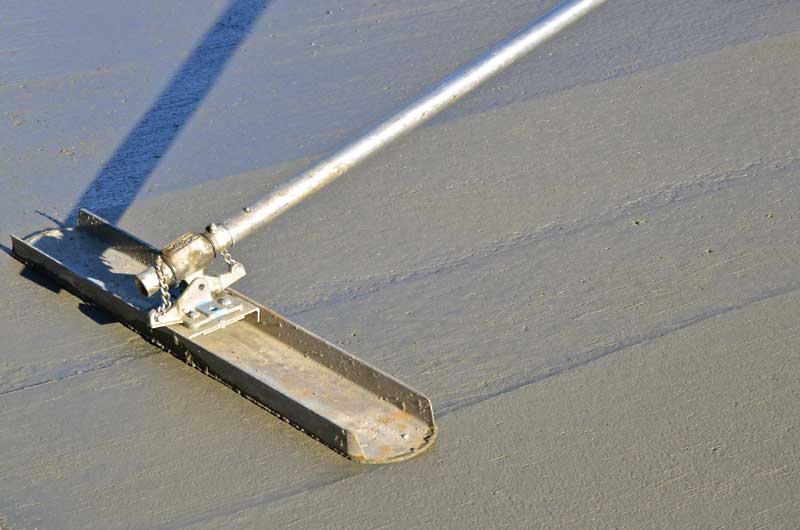 Today's roof systems often do not use a vapor retarder at the roof deck. Designs employ newer methods to attach to concrete decks, including ribbon-patterned foam and asphalt adhesives. Loose-laid stone ballast may also be used above the roof membrane to secure it to the deck.
According to Portland Cement Association (PCA) Engineering Bulletin (EB) 119, Concrete Floors and Moisture, normal-weight structural concrete will dry down to a 75 percent RH in approximately three months. However, LWSC takes nearly six months to dry to that level. (This information is based on a 200-mm [8-in.] thick concrete slab that has not been rewetted, with drying potential on the top and bottom.) If downward drying is not possible, clearly the time to dry to 75 percent RH will be extended.
A 1997 study by the Swedish Council of Research showed it can take up to six months (180 days) to reach an 85 percent RH when the water-to-cement (w/c) ratio is high (e.g. 0.7). Even with a low w/c ratio (e.g. 0.4), it takes almost two months (50 days) to reach an 85 percent RH. Suffice it to say, concrete takes a long time to dry.
While the primary function of a roofing system is to prevent water from passing into the building below, water or vapor collecting within the roofing system can also be detrimental, both to the roofing system's immediate performance and its long-term durability. Aside from leakage to the interior, moisture in roofing systems can have numerous negative consequences, including reduced thermal resistance of insulation and loss of strength of the insulation, coverboard, adhesive, or fasteners. If moisture affects the attachment of the roofing system, significant property loss can occur. These effects could leave the roofing system vulnerable to:
uplift damage from wind;
crushing from foot traffic or hail;
deterioration of the structural deck;
dimensional changes in the substrate (which can, in turn, damage the roof membrane);
blistering or weakening of the roof membrane itself; and
mold growth.
Testing for dryness
The top surface of a concrete deck may be adequately dry to install a roofing system. However, the amount of moisture contained in the lower two-thirds to three-quarters of the concrete deck can be driven upward into the roof system over time. There is a significant difference between surface-dry concrete that provides the ability to adhere a roof system and an appropriately dry concrete deck that will not affect the performance of a roof system over an extended period.
Numerous methods have been traditionally used in the roofing industry to determine if a concrete deck is appropriate for installation. One method is to assume after 28 days the deck is adequately dry. This is certainly not appropriate.
Another approach is to mop or pour hot bitumen on a concrete deck and check for bubbling or sizzling (e.g. small bubbles closely spaced) that indicate moisture is boiling out of the deck. However, this method is not reliable, as it only determines whether the very top surface is wet or dry.
ASTM D4263, Standard Test Method for Indicating Moisture in Concrete by the Plastic Sheet Method, calls for a plastic sheet or piece of glass to be placed over the deck and sealed to determine if condensation develops, therefore indicating moisture is present in the concrete. This method is also unreliable because environmental conditions (e.g. temperature, humidity, and solar gain) must be the same on the top and bottom of the concrete deck, which is difficult to achieve.
A potential—but yet to be qualified—method comes from the flooring industry. ASTM F2170, Standard Test Method for Determining Relative Humidity in Concrete Floor Slabs Using In-situ Probes, involves inserting a probe into a drilled hole, which is then sealed and left in place for three days to measure temperature and RH. This test method is currently unacceptable for concrete roof decks because there is no current index/measure for an appropriate relative humidity at different depths within a concrete deck. For normal- and lightweight structural concrete, NRCA suggests a maximum 75 percent RH, and understands a lower level of humidity may be required when organic-based materials are employed in the roof assembly.
Other test methods using electrical resistance and impedance are not common in North America. More importantly, they do not determine the amount of moisture in a concrete deck except at very shallow depths—the results are not a reliable measure for installation of roof systems.
FURTHER INFORMATION
For additional data and context, this author recommends the following sources:
"Concrete Roof Decks: Risks Posed to Roofing and Waterproofing Systems," by Bill McHugh (Chicago Roofing Contractors Association)—and presented by Matt Dupuis, PhD, PE—in the Spring 2015 edition of CRCA Today;
"CRCA Roofing Industry Breakfast," presented by Dupuis at a January 2016 CRCA meeting;
"JUMP: Accelerating Tech-to-Market," a June 2017 webinar by Melissa Laspa of Oak Ridge National Laboratory (ORNL) and Helene Hardy Pierce, an expert with a roofing manufacturer;
Mark S. Graham's National Roofing Contractors Association (NRCA) Industry Issue Update, "Moisture in Lightweight Structural Concrete Roof Decks," from September 2013;
"Moisture in New Concrete Decks," from the May 2017 Midwest Roofing Contractors Association (MRCA) Technology & Research Update;
MRCA's January 2011 Advisory Bulletin, "Structural Lightweight Concrete Roof Decks;"
"Technical Roofing Problems Can Create Legal Issues," a January 2016 CRCA presentation by Dupuis;
"The Conundrum of What to do with Wet Concrete Roof Decks," by Christopher R. Jasinski, PE, from the August 2016 issue of RCI International's Interface;
"The Quest for Dryness," by Dupuis, in the June 2017 issue of Professional Roofing; and
the 2015 (with 2016 updates) edition of NRCA Roofing Manual: Membrane Roof Systems.