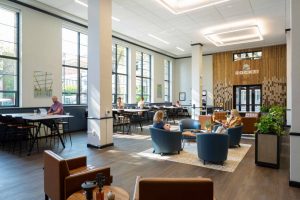 Multidisciplinary design firm Cushing Terrell of Boise, Idaho, spearheaded a 2,240-m2 (24,110-sf) renovation project which transformed the old Montana National Bank into an interactive business incubator.
The client for the project was Big Sky Economic Development (BSED), a public-private partnership dedicated to sustaining and growing the economy in Yellowstone County.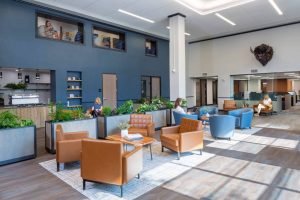 Named Big Sky Economic Development Entrepreneurial Hub, the design goals for the project were to create a state-of-the-art, interactive space geared toward collaboration, wellness, and productivity, and to honor the history of Billings, Montana, while looking to the future and helping new and existing businesses flourish and grow.
Cushing Terrell suggested a design centered on connections and co-working, incorporating a broad range of space types—from large open work areas, and training and conference rooms, to smaller offices, and partially private breakout areas. Most space types were designed to create welcoming connections and visibility between them, while the openness of the building itself and the intersection of spaces generates an energy that invites networking and shared inspiration.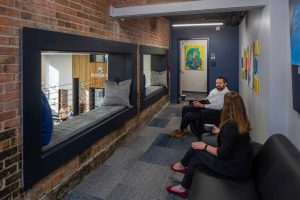 Overall, the project entailed the interior renovation of all four floors of the former bank building, preservation of the exterior landscape architecture to enhance the streetscape, and upgrades to the mechanical, electrical, and plumbing systems. The basement and the first floor are the home of Rock31—an organization providing resources and connections for entrepreneurs with peers and mentors. The second floor provides co-working space, offices, and event space, and the third floor is reserved for BSED offices.
Robust user engagement activities were utilized to get to the core of what was needed, with input from different sectors of the Billings business community, including the 40 BSED board members. Stakeholders were highly interested and engaged in the process and participated in deep-dive exploration sessions to review design concepts and materials, and to decide upon the overall design theme.
All user engagement activities were conducted virtually, as this was during the height of the pandemic.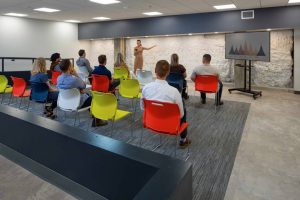 Currently, 20 owners, operators, and businesses rent the space. There are no long-term leases; each member instead signs up for monthly memberships. The variety of spaces help make it financially viable for BSED and small businesses while giving anyone who comes there a broad mix of opportunities to engage and explore.
"Having an entrepreneurial center in the heart of downtown Billings is the big piece of it," says Nick Bowers, project architect. "You're not only driving future business owners into downtown, but also encouraging the surrounding community to leverage this place as somewhere to come together."