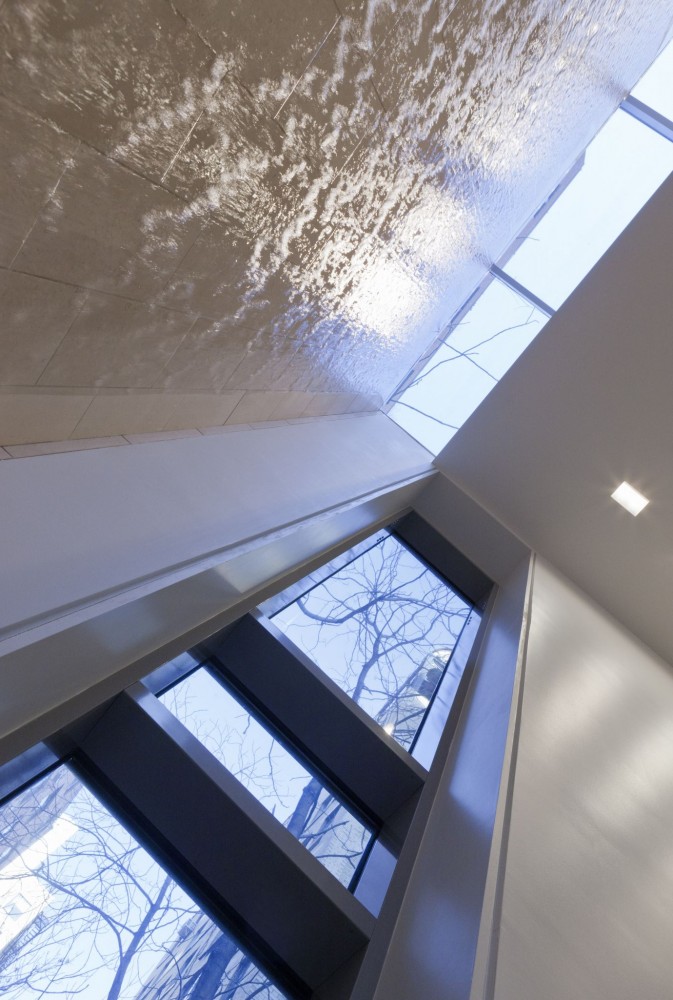 by Jeff Razwick
As shown in this author's previous article, fire-rated walls typically stand guard inside buildings, ready to compartmentalize fires from within at any moment. As urban density and demand for daylight and visibility in the building envelope increase, these assemblies are also proving valuable for a growing number of exterior applications.
Fire-rated curtain walls can prevent a fire from traveling to or from neighboring buildings without restricting visibility. Unlike gypsum, masonry, and other opaque fire-rated materials, this multi-functionality can bring fire and life safety goals in line with the aesthetic design intent where building codes deem the threat of fire is significant from adjacent construction.
For design professionals evaluating when to use the assembly in the building envelope, it can be helpful to look at situations where it can benefit exterior separations with fire safety requirements.
Property line protection
As it becomes more efficient to build upward and closer together in cities to accommodate growing populations, property line setbacks are narrowing. This is generating an increase in the number of buildings required to use fire-rated materials as exterior separations—a safeguard building codes typically only require for structures in close proximity to each other.
Generally, lot line protection is required when a building is close to its neighbor, regardless of whether that adjacent structure is on the same lot. To provide clarity on this requirement, building codes specify the horizontal separation distances requiring fire-rated materials. For example, see International Building Code (IBC) Sections 705.5 and 705.8. In Section 705.3, IBC uses an imaginary line to determine whether buildings on the same piece of property are in close proximity to each other.
Where codes deem it is necessary to protect against the spread of fire between buildings, fire-rated curtain walls make it possible to do so while maintaining visibility and light. For example, they can provide lot line protection without sacrificing light transfer. Well-designed fire-rated curtain walls can even extend the surface area through which light can transfer to help illuminate a building's core and better support green building goals. Some fire-rated curtain walls are available with fire-rated insulated glass units (IGUs) incorporating tinted or low-emissivity (low-e) glass for more efficient solar energy management, while taking advantage of daylighting techniques.
Transparent fire protection
Opaque fire-rated materials like gypsum and masonry can satisfy property line requirements and provide compartmentalization for both exterior and interior spaces. The downside is they restrict light transfer and visibility. Fire-rated glass curtain walls can serve as a clear alternative given their heat blocking characteristics; specifically, their classification as fire-resistance-rated wall construction.
Fire-rated curtain walls are tested to ASTM E119, Standard Test Methods for Fire Tests of Building Construction and Materials, and Underwriters Laboratories (UL) 263, Fire-resistance Ratings. Receiving classification as non-directional fire-resistance-rated construction (meaning they can maintain the same fire-rating from both sides) rather than an "opening protective," they can exceed 25 percent of the total wall area to provide transparency from the outside where fire and life safety is a concern.
Exterior cladding performance criteria
The air and water penetration resistance of fire-rated steel curtain wall systems (tested per ASTM E283, Standard Test Method for Determining Rate of Air Leakage Through Exterior Windows, Curtain Walls, and Doors Under Specified Pressure, at 30.47 kgf/m2 [6.24 psf] and per ASTM E331, Standard Test Method for Water Penetration of Exterior Windows, Skylights, Doors, and Curtain Walls by Uniform Static Air Pressure Difference, at 20 percent of design wind load, respectively) is typically better than comparable, non-rated aluminum systems. The steel profiles are protected from air and water penetration by a continuous, full-width silicone gasket mounted to the face of the profiles in the glazing pocket.
Regarding thermal performance, the increased thickness of the rated glass in fire-rated curtain walls can help reduce potential for heat flow. Where energy-efficient curtain wall design is critical to building goals, fire-rated IGU constructions allowing low-e glass to be incorporated in the 'glass sandwich' can further improve energy performance. As an added benefit, narrow steel frames paired with high-performance fire-rated glazing can help lower the potential for heat transfer and therefore increase condensation resistance. Simulations of the actual construction can be modeled, giving the designer the ability to know how the fire-rated curtain wall will affect the sizing of the building's HVAC systems.
Fire-rated curtain walls with steel frames can also work in close conjunction with surrounding materials to help ensure a sound building envelope as the temperature changes. Steel's coefficient of expansion is nearly half that of aluminum, and is similar to glass and concrete. This also reduces the size of perimeter sealant joints, especially at locations where expansion is being addressed.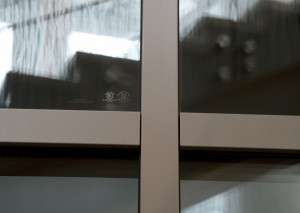 Support for demanding applications
Industry standards for exterior curtain wall frames typically limit deflection due to wind load to L/175 or 19 mm (¾ in.)—whichever is less—for spans under 4 m (13 ½ ft), and L/240 for greater spans (where L equals the length of the span between anchor points). These standards were originally developed to prevent sealant failure of insulating glass units due to mullion deflection.
In fire-rated curtain walls, the rated glass may impose stricter limits on the framing, such as L/300. Since steel has a Modulus of Elasticity three times that of aluminum, it can more easily meet these deflection limits without increasing the system profile size. It can also reduce the need to reinforce the frame members. As a best practice, one should consider verifying deflection requirements with the glass manufacturer before accepting typical industry standards.
Conclusion
For all the ways fire-rated glass can enhance building design goals for interior fire separations, there is an almost equal amount of options to do the same for exterior fire-rated glazing applications. To ensure the safety of people and property while still providing a high-performance product required by specification for exterior applications, it is important aesthetic goals align with fire and life safety standards in local building codes. Where necessary, the design team can consult with the manufacturer or supplier.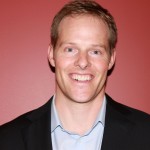 Jeff Razwick is the president of Technical Glass Products (TGP), a supplier of fire-rated glass and framing systems, and other specialty architectural glazing. He writes frequently about the design and specification of glazing for institutional and commercial buildings. Razwick is a past-chair of the Glass Association of North America's (GANA) Fire-Rated Glazing Council (FRGC). He can be contacted via e-mail at jeffr@fireglass.com.