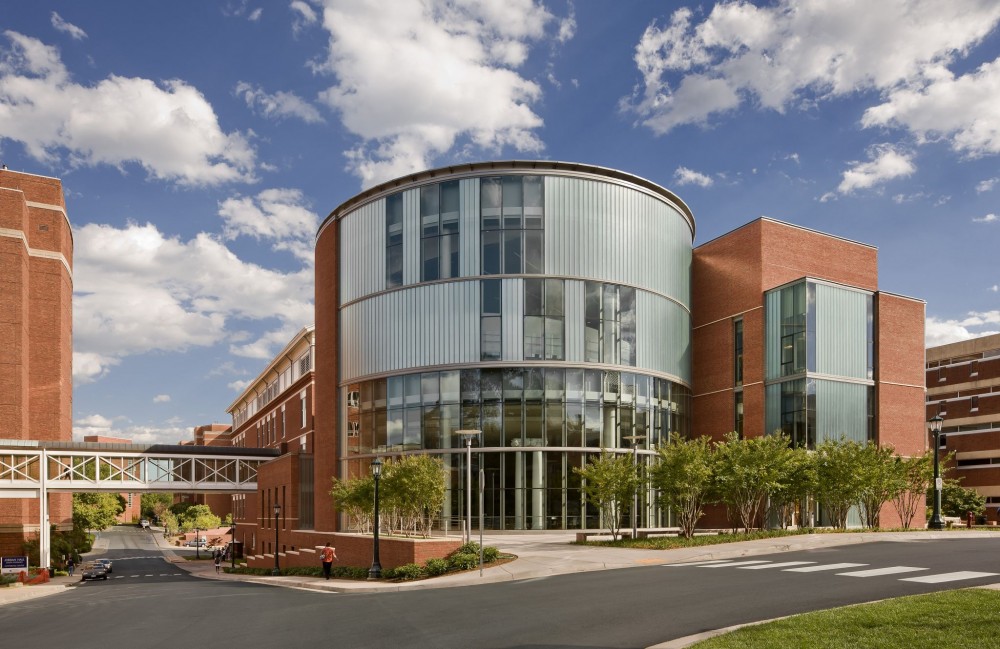 by Jeff Razwick
Channel glass has become an increasingly popular glazing material in North America over the past decade. It allows architects to create sophisticated designs while supporting goals such as daylighting, managing a building's energy consumption, and meeting stringent hurricane code requirements.
For design teams seeking to create high-performance buildings without sacrificing beauty, channel glass offers many benefits. It creates an inimitable aesthetic by dispersing light through its U-shaped, translucent cast-glass form. When appropriately designed and installed, the multi-functional material can also perform as well as, if not better than, other glazing materials to provide:
occupant privacy;
diffused light transfer;
visible light transmittance (VLT);
thermal performance; and
hurricane protection.
When using channel glass to its full potential in contemporary applications to enhance a building's performance, it is important to understand how the material's properties impact design. Such knowledge can aid in the specification of channel glass partitions and façades that deliver more than an architectural statement.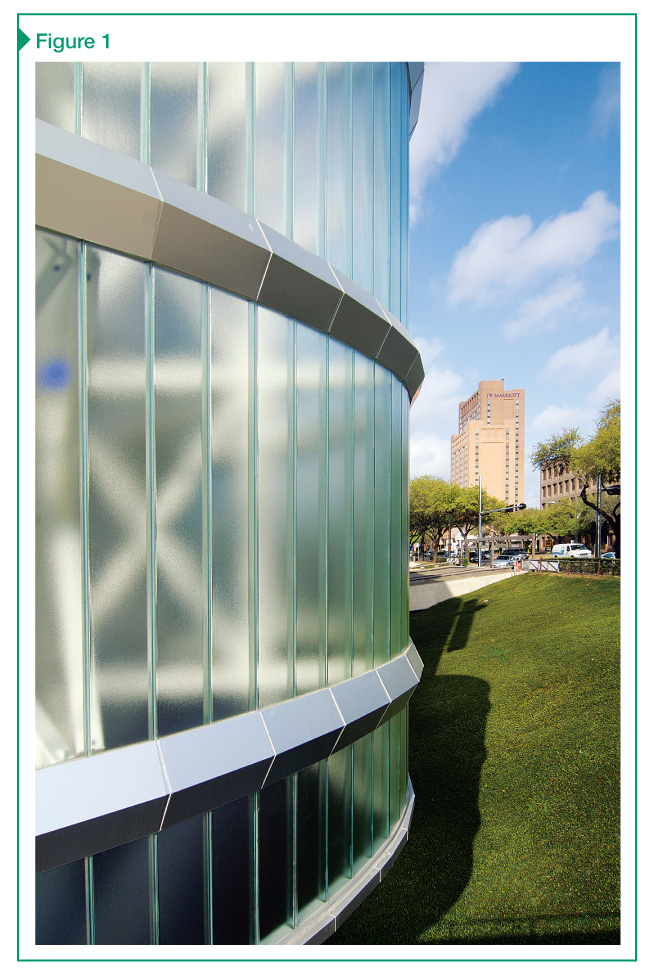 Occupant privacy
From porte cochères to lobby separations, channel glass systems are ideal for instances requiring access to natural light without loss of privacy. Manufacturers produce cast-glass channels in various colors and textures with varying translucency that can be used to create attractive, light-filled, and visually protected spaces as seen in Figure 1.
Channel glass textures range from no pattern (i.e. smooth) to lines, waves, and grooves. Generally, products with more intricate textures disperse light for greater privacy (Figure 2). Symmetrical, well-defined ridge textures modify color and light to form optical variations and obscure vision in a visually engaging manner. Design professionals might also wish to consider sandblasted glass channels. Such treatment achieves greater opacity and is ideal for spaces such as offices, entryways, and lounges requiring both light and privacy.
Another visually impactful method for creating privacy in channel glass installations is with color. Transparent, light-hued coatings can add a hint of color while still maintaining good visibility between spaces. On the other hand, channel glass with a colored polycarbonate laminate provides a better-obscuring privacy screen. In the latter, manufacturers adhere a polycarbonate laminate to the underside of cast-glass channels, providing moderate- to no-visibility, depending on the backing color.
Colored ceramic frits are opaque and ideal for applications requiring a complete privacy screen, or those serving as object architecture (see "Design Considerations"). The fade-resistant color of ceramic frits is the result of melding enamel to the glazing's interior surface during manufacturing.
Regardless of the selected color or texture, single-glazed channel glass applications allow for greater light penetration than dual-glazed installations.

Diffuse light transfer
A primary advantage of channel glass is its ability to diffuse even, soft light with fewer and less sharply defined shadows than conventional window glass. This can be essential to daylighting design, as overly direct sunlight may create distracting shadows as the sun moves.
From a design perspective, channel glass' inherent ability to diffuse light can enable a sleek, monolithic aesthetic by reducing the need for shutters, blinds, or sunscreens to balance the effects of solar energy. In many instances, it is possible to meet daylighting design goals by carefully specifying the channels' translucency, or ordering the glazing with coatings, films, or tints.
Channel glass systems are also ideal for building teams desiring the sweeping aesthetic of glass walls. Cast-glass channels can extend vertically or horizontally up to 7 m (23 ft) without intervening frame members, and can be stacked over a floor plate to achieve greater glazing expanses.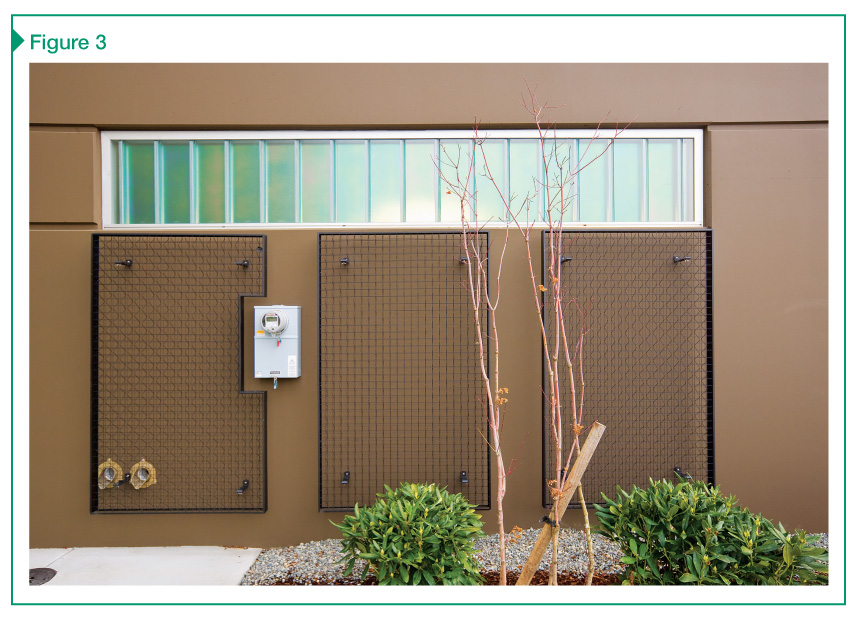 In addition to producing a distinctive look, large areas of channel glass are beneficial for design professionals targeting Leadership in Energy and Environmental Design (LEED) Indoor Environmental Quality (EQ) Credits 8.1 and 8.2, Daylight and Views. To earn points in these categories, the building design must provide occupants with access to natural light within 75 percent of regularly occupied spaces, and views to outdoor environments within 90 percent of all regularly occupied areas.
Channel glass is also well-suited for smaller applications such as strip windows, which help ensure uniform lighting (Figure 3). Cast-glass channels do not require vertical mullions, enabling the provision of light for occupants without the contrasting shadows and spotty illumination typical of individual window openings. This can help prevent bright spots on computer screens and glare from other interior surfaces. Less focused light can also help reduce indoor heat buildup.
Visible light transmittance
Channel glass diffuses light, but still provides good visible light transmittance. The VLT for uncoated, double-glazed applications ranges between 70 and 75 percent, allowing occupants to enjoy the benefits of natural light.
Building professionals desiring even greater light transmittance can select low-iron oxide channel glass. Cast-glass channels with lower iron content are available with a VLT greater than 90 percent.
The provision of full-spectrum sunlight within interior spaces can enhance worker productivity, student learning, and even boost retail purchases.1 This also enables building teams to achieve a desirable aesthetic without compromising on lighting goals.
Thermal performance
A common challenge with curtain walls, façades, and other large glazed areas is overcoming the 'terrarium effect.' This refers to the process whereby an interior space captures and holds the sun's radiant heat, raising indoor temperatures uncomfortably in summer or in sunny climates. Likewise, in cool regions, heat loss can be a challenge.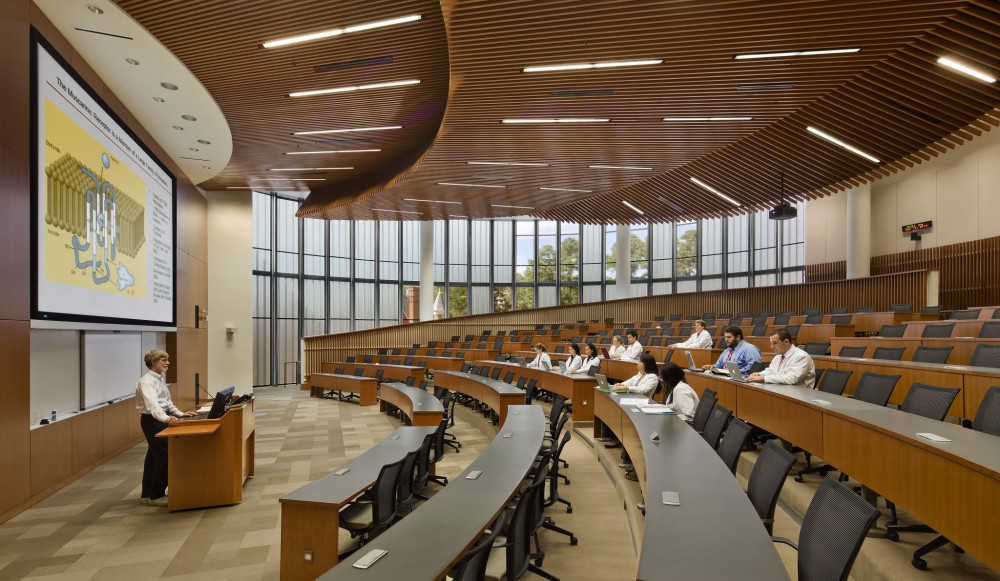 Channel glass' configuration can help building teams manage heat transfer and offset the terrarium effect. The individual glass segments can be mounted in an overlapping fashion to create an insulating dead-air-filled space. This arrangement typically has a solar heat gain coefficient (SHGC) of 0.69 and a U-value of 0.50. Specifying channel glass with thermally broken frames, low-emissivity (low-e) coatings, and insulation can further enhance energy performance. For instance, an effective insulator is aerogel, a material that is 90 percent air and, therefore, translucent. When placed in cast-glass channel cavities, it can help reduce the SHGC to 0.31 and the U-value to 0.19 with marginal impacts on light transmission.
Since SHGC and U-values vary by the type of thermal treatment, it is important to verify performance levels with the manufacturer or supplier, and ensure the material can satisfy a wall's thermal performance requirements. Also, as is the case with any glazing, the energy-saving benefits of daylighting require coordination between window design, placement, and electric lighting controls. A given building design might capture large quantities of natural daylight, but without controls to automatically reduce artificial lighting, the result can be a net loss from lighting and mechanical cooling costs.
The Whole Building Design Guide (WBDG) underscores the importance of achieving this balance, noting: "The science of daylighting design is not just how to provide enough daylight to an occupied space, but how to do so without any undesirable side effects."2
Hurricane protection
In recent years, manufacturers have developed channel glass systems that allow for the transfer of natural light while helping protect buildings and occupants against severe storms. Some advanced assemblies satisfy Miami-Dade County and Florida state requirements—the hurricane code benchmarks.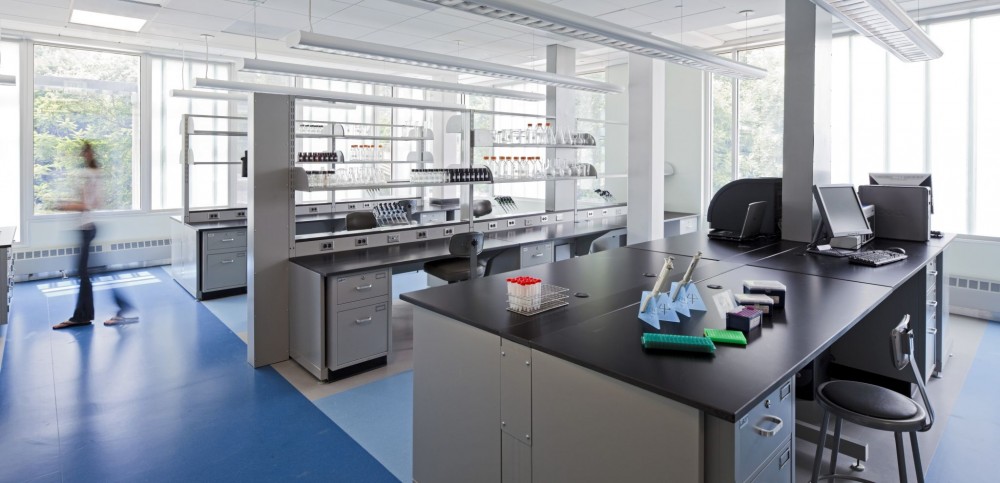 Many manufacturers achieve a superior level of channel glass performance by laminating a polycarbonate to the interior surface of cast-glass, or heat strengthening and applying a film to the channels. Channel glass with polycarbonate laminated to its inside surface provides the highest level of hurricane protection. It is tested and approved for the Miami-Dade County and Florida state's requirements of Large Missile Impact Test, Small Missile Impact Test, and cyclic loading in channel heights up to 3 m (10 ft).3
Heat-strengthened and filmed cast-glass channels pass only the Small Missile Impact Test. While this limits installation to a minimum of 9 m (30 ft) above ground level, it enables greater design freedom. The channels can be installed in vertical and horizontal orientations, and can extend for up to 4.1 meters (13.4 ft) in horizontal applications. As such, architects can design glazed façades that set apart buildings as contemporary, artistic, or elegant icons, while protecting against storm damage (see "Hurricane-rated Channel Glass Tower Tops SCAD Museum of Art's Contemporary Expansion").
Channel glass systems approved for Miami-Dade County and Florida state requirements can provide adequate protection without films or shutters. One challenge is protective glass films can block out too much daylight and produce excessive exterior reflectivity. These side effects not only detract from occupant comfort and views, but also diminish exterior aesthetics. Secondly, for applications using glass block in place of windows, supplemental protective devices like shutters are frequently required. These can hinder the sleek, contemporary lines desired by architects.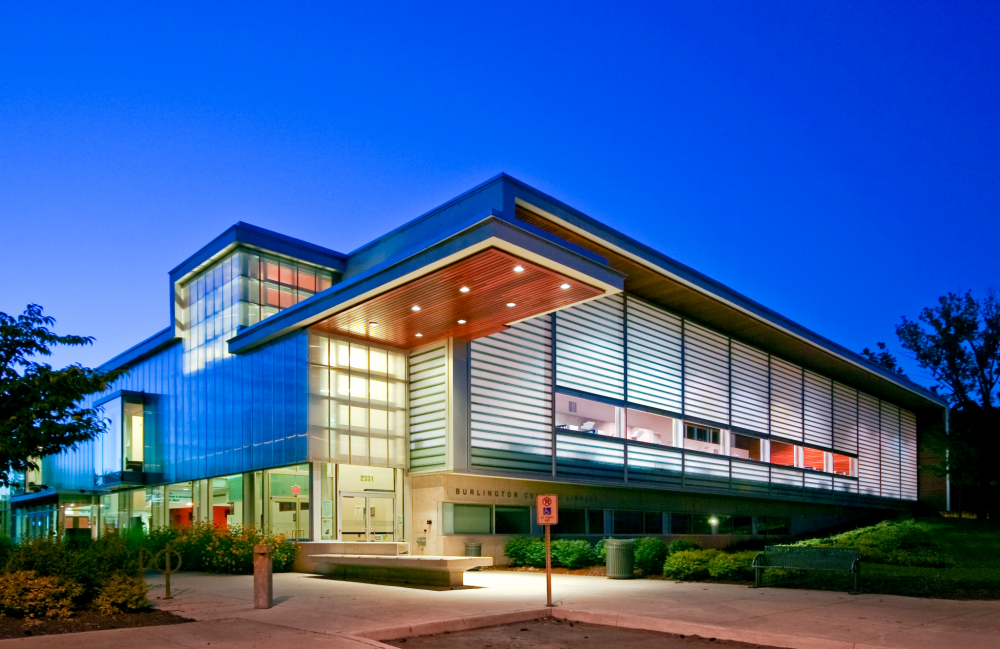 Conclusion
While it is not difficult to ensure the successful installation of multifaceted channel glass systems, the steps differ from traditional glazing materials. Installers should have a proven track record of working with channel glass, including:
preparing the structural opening;
measuring and attaching aluminum frames;
onsite cutting of channel glass;
assembly installation; and
sealing the system.
As with any specialty glazing, manufacturers and suppliers can provide specific installation instructions, including procedures for horizontal or interior installations.
Notes
1 For more information see Peter Boyce, Claudia Hunter, and Owen Howlett's "The Benefits of Daylight Through Windows." Visit www.usp.br/fau/cursos/graduacao/arq_urbanismo/disciplinas/aut0213/Arquivos_Anteriores/Publicacoes_e_Referencias_Eletronicas/The_Benefits_Of_Daylight_Through_Windows.pdf. Also see Heschong Mahone Group's "Daylighting and Productivity" at www.h-m-g.com/downloads/Daylighting/order_daylighting.htm. (back to top)
2 For more, see Gregg D. Ander's article, "Daylighting," at www.wbdg.org/resources/daylighting.php. (back to top)
3 For more, see Large Missile Impact Test per Florida Building Code (FBC) Testing Application Standard (TAS) 201-94, and Cyclic Wind Pressure Loading per FBC TAS 203-94. FBC TAS 202-94 is specific to the air and water portions of the testing. The Small Missile Impact Test is per ASTM 1996-06, Standard Specification for Performance of Exterior Windows, Curtain Walls, Doors, and Storm Shutters Impacted by Windborne Debris in Hurricanes, while cyclic loading is per ASTM 1886-06, Standard Test Method for Performance of Exterior Windows, Curtain Walls, Doors, and Storm Shutters Impacted by Missile(s) and Exposed to Cyclic Pressure Differentials. (back to top)
Jeff Razwick is the president of business development for Technical Glass Products (TGP), a supplier of fire-rated glass and framing systems and other specialty architectural glazing. He frequently writes about the design and specification of glazing for institutional and commercial buildings. Razwick can be contacted at jeffr@fireglass.com.