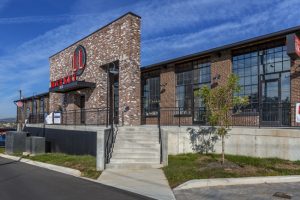 The Urban Land Institute (ULI) selected the L&L Market development in West Nashville, Tennessee, for a 2020 ULI Nashville Excellence in Development Award. The project was among two other real estate development projects from around Nashville selected as winners in the small, private sector category.
L&L Market is a 5110-m2 (55,000-sf) retail, restaurant, and office marketplace created out of a 100-year-old property that most recently housed a restaurant supply warehouse. Owner and developer Tamay Ozari commissioned Southeast Venture Design to redesign the building. Dowdle Construction Group was the general contractor. The project's vision was to create for Nashville an atmosphere akin to New York's Chelsea Market or Napa's Oxbow Market.
Combining its notable history, unique architectural elements, and location on one of Nashville's fastest-growing corridors, L&L Market has quickly become a vibrant community of small businesses and restaurants.
"It is truly a one-of-a-kind building—its character sets it apart," said Kevin Liegibel, Southeast Venture Design project architect. "Simply being a part of this project and seeing the L&L Market transform from its previously dilapidated condition to what it is today has been a truly rewarding experience. Receiving the ULI award takes it a step further, recognizing the time and energy all involved team members put into creating the finished product."
Notably, this is an ongoing project for Southeast Venture Design and Dowdle Construction Group, as both have been commissioned by tenants to build out their individual retail spaces within the marketplace.
The ULI Nashville Excellence in Development Awards program celebrates the creativity and vision in land use and real estate development, which reflects exemplary design, sustainability, and commitment to community, among other criteria. The award entries were judged on criteria supporting ULI's commitment to best practices in the use of land and leadership in creating and sustaining thriving communities worldwide.