The National Building Museum in Washington, D.C., reopens April 9 after a 16-month closure due to restoration work and the COVID-19 pandemic.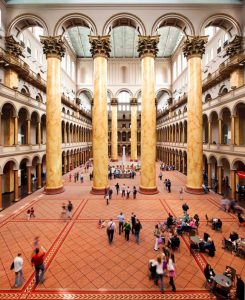 In its 41st year as the only U.S. cultural institution dedicated to the built environment, the museum will once again welcome everyone to experience stories about the country's structure, interiors, and landscapes. New offerings include an exhibition about a nonprofit architecture firm leading the way in designs for health, well-being, and justice; a memorial dedicated to victims of gun violence; the work of an architectural photography master; and a visitor center introducing the public to the institution and its mission.
The museum's exhibitions and the museum shop will be open from 11 a.m. to 4 pm, Fridays through Sundays. Masks are always required for all visitors, and the museum is following all D.C. government COVID-19 guidelines regarding visitor capacity. Over the past year, the museum has moved its public programs to an online format, and this will continue over the coming months, until the city's rules allow for in-person events.
The museum has announced the appointment of Aileen Fuchs as its new president and executive director. Currently the president and CEO of the Snug Harbor Cultural Center & Botanical Garden, on Staten Island, New York, Fuchs will join the institution on May 5. Since the retirement of former executive director Chase Rynd, Hon. ASLA, in June 2020, the museum has been led by interim executive director Brent Glass.
"The National Building Museum is reopening with new leadership and an impressive lineup of exhibitions," said Glass. "We are delighted that the public can return to our home in the historic Pension Building and again experience the extraordinary Great Hall, one of Washington's most important interior spaces."