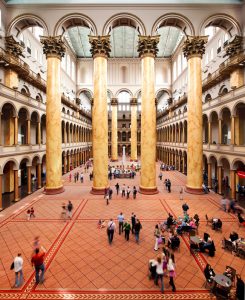 Renovations to the great hall of the National Building Museum, Washington, D.C., are now complete. The three-month-long project involved replacing the concrete floor with a modern foundation, and was executed by the U.S. General Services Administration (GSA).
The museum was scheduled to reopen on March 13. However, due to the COVID-19 pandemic, the museum is closed for now.
The reopening would have marked the beginning of a yearlong 40th anniversary celebration, including exhibitions, public programs, and special events.
During the renovation, museum staff took advantage of the closure to convert second-floor classrooms into an exhibition space. The museum will also debut a new ticketing gallery on the ground floor. Housed in a renovated space with new lighting and electrical, acoustical treatment, and durable flooring, this gallery features a display of objects from the museum's collection, a new ticketing desk, and a seating area. Later this year, an orientation exhibition will welcome visitors with an introduction to the museum's mission and special exhibitions.
"We used this opportunity to make some long-planned changes to the museum's layout," said Rynd. "By moving most exhibitions to the second floor and creating a new visitor center, we think visitors will have an easier time orienting themselves—and understanding our mission."