by Jason Kron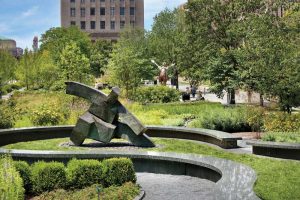 Worldwide, cities are growing. Today's megalopolis' must not only provide its citizens with basics such as housing and transportation, but also with attractive public places for leisure time and city identification. Outdoor spaces transcending function and offering beauty and serenity in the bustling city landscape often become iconic. For thousands of years, natural stone has provided one of the best materials for creating outdoor spaces in cities.
Stone meets sustainability goals
For gathering places such as parks with fountains, memorial sites, and urban plazas, natural stone offers numerous benefits. It is a timeless, classic building material offering beautiful aesthetics and modern applications. Natural stone has one of the lowest embodied carbon levels among building materials.
Further, owners and designers can now specify sustainably certified natural stone options. Natural stone quarriers and fabricators with the "Certified Genuine Stone" label comply with the American National Standards Institute/National Stone Council (ANSI/NSC) 373, Sustainable Production of Natural Dimension Stone. The third-party verified ANSI/NSC 373 defines environmental, ecological, socially responsible, and human-health metrics for extracting and manufacturing natural dimension stone.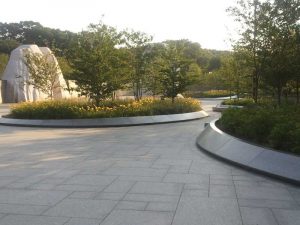 Projects seeking green building certifications can choose certified natural stone to achieve their design goals. ANSI/NSC 373 aligns with materials and resource credits for U.S. Green Building Council's (USGBC's) Leadership in Energy and Environmental Design (LEED) v4 and the materials petal of International Living Future Institute's (ILFI's) Living Building Challenge (LBC).
Standing the test of time
Capable of withstanding the elements of weather and human interaction, natural stone performs well in urban hardscapes. A low-maintenance natural stone requiring minimal upkeep (e.g. granite) is a suitable material for public memorials. The Martin Luther King, Jr. National Memorial in Washington, D.C., Victory Memorial Drive in Minneapolis, and the East Tennessee Veterans Memorial in Knoxville, Tennessee, are beautiful civic tributes constructed with granite.
Structures built with natural stone more than 50 years ago remain standing today as a testament to the material's resilience. One noteworthy example is the Air Force Academy Cadet Area in Colorado Springs (Denver), which was completed in 1958 and covers about a fifth of a square mile in the heart of the academy's campus. It features concrete retaining walls finished with gray granite slabs.
As is noted in the National Historic Landmark Nomination, the retaining walls "accentuate the height of the plateau…[and] rather than blend the retaining walls into the colors of the earth, SOM [the project architect] chose to create an almost temple-like appearance. Architectural Forum declared that the architects 'shaped the slopes as powerfully as the Babylonians, the Incas, and the Greeks once did.'"