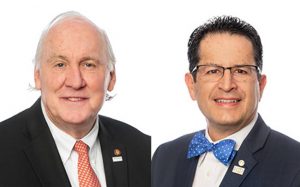 The National Council of Architectural Registration Board (NCARB) has promoted New Mexico architect Robert M. Calvani, FAIA, NCARB, as president and Texas architect Alfred Vidaurri Jr., FAIA, NCARB, as vice-president.
During his term as president, Calvani will focus on exploring issues related to regulating incidental architecture practice, architects' responsible charge when signing and sealing documents, and ethics in the profession. Additionally, Calvani plans to expand efforts to communicate the work of NCARB and state licensing boards and improve diversity and representation within the profession.
"I am honored by the trust placed in me to lead the council this year," said Calvani. "NCARB has built up great momentum in the past several years, and I look forward to continuing our efforts to be agile, embrace new approaches, and raise awareness of our important work to protect the public."
Calvani is the founder and president of NCA Architects and is actively involved in his local community, devoting his time to numerous advisory boards. Calvani is also an active member of the American Institute of Architects (AIA), and in 2018, he was elevated to the AIA College of Fellows.
Calvani received architectural degrees from both the University of New Mexico and the University of California, Los Angeles (UCLA).
Vidaurri will become the first Latino president of the organization. Over the next two years, Vidaurri plans to focus on furthering NCARB's equity, diversity, and inclusion (EDI) efforts—from identifying and addressing barriers along the path to licensure, to ensuring the organization's staff and volunteers reflect the diverse communities they serve.
A graduate of the University of Texas at Arlington's Master of Architecture program, Vidaurri has held numerous positions with various local, community, and state organizations.