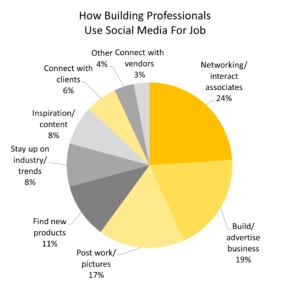 An online survey on social media usage in the construction industry reported most architects, interior designers, engineers, and facility managers use social media for business purposes.
Accountability Information Management Inc. (AIM), a leading B2B research company, published a new AIM Snapshots research on how building professionals use social media or online channels for business.
While the use of social media/online media channels may not be for everyone, this research indicated most building professionals (72 percent) are using it for their jobs. The research found the use of social media boils down to whether it is pertinent to their jobs: 27 percent of those who do not use social media indicated their company uses it, but they do not.
There are several reasons why building professionals use social media and online channels for their jobs, including networking, building their businesses, and finding new products or industry news.
"Although it remains to be seen whether or not building professionals will continue to use social media post-COVID-19, this research provides a good indicator on how architects and engineers use it differently," says Patty Fleider, director of research at AIM.
This snapshot is part of an ongoing AIM research library, along with a variety of other in-depth research reports on the construction marketplace. The Snapshots section is intended to provide key market information for building construction professionals and manufacturers in a format that is concise and easy to understand and absorb.