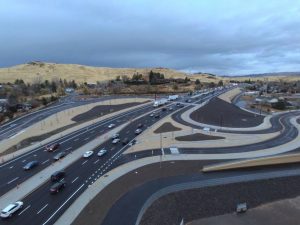 The Nevada Department of Transportation (NDOT) has selected Granite Construction Inc. (Granite) for a project, valued at nearly $58 million, to reconstruct a section of a highway in Sparks, Nevada.
The project is an extension of the company's award-winning Pyramid and McCarran Intersection Improvement Project, completed in 2017. Funding for the project will come from the Federal Highway Administration (FHWA).
The Pyramid Highway expansion will convert the four-lane highway into a six-lane high-access arterial road, spanning from Queen Way to Los Altos Parkway. The reconstruction project will include three travel lanes in each direction, bike lanes, curb, and gutter enhancements, a wide median, shoulder improvements, and a barrier-protected, shared-use path on the east side of the road.
Further, the stretch between Los Altos Parkway and Golden View Drive will have four travel lanes and improvements, such as sound/screen walls, and a protected sidewalk on the west side of the road.
The project is planned to begin this month and is expected to be completed in February 2025.
"Granite has a longstanding working relationship with the NDOT [and] we are excited about delivering another quality project," says Granite area manager, Taylor Polan. "This project suits our strengths in northern Nevada, and we look forward to improving our community by helping relieve traffic congestion on this heavily traveled corridor."