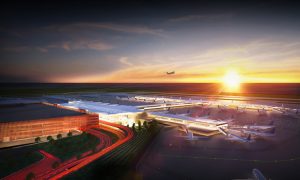 A new $1.5-billion, single terminal project breaks ground in Kansas City, Missouri. The project will transform and modernize the current three-terminal layout at the Kansas City International Airport (KCI), which has remained largely unchanged since it opened in 1972, despite nearly tripling its passenger traffic. It is the largest infrastructure project in Kansas City's history.
Designed by the Chicago-based Skidmore, Ownings & Merrill (SOM), the new terminal will feature 92,903 m2 (1 million sf) of space and 39 gates, the construction of which is projected to create 5000 jobs. It is slated to open in 2023.
"A modern airport that is attractive to passengers and airlines is an important competitive advantage for any major metropolitan area," said Tim Cowden, CEO, Kansas City Area Development Council (KCADC). "KC has a long track record of investing in its cultural assets, major league sports facilities, roads, bridges and mass transit options, and a new single terminal at KCI is the next important phase in our region's growth."
Additional project highlights include:
close-in parking;
two-level curbside pickup and drop-off area;
expanded flight options and waiting areas at each gate to accommodate an increased number of passengers and larger aircraft; and
revamped, first-rate travel experience with more post-security amenities.