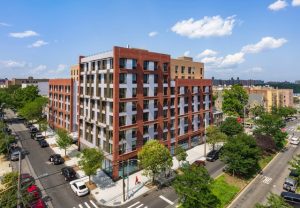 RKTB Architects has completed Phoenix Estates II, a residence for families and seniors in the Hunts Point neighborhood of the Bronx.
The eight-story mixed-use complex at 700 Manida Street was designed to harmonize with the surrounding residential-industrial neighborhood, adding affordable rental options and street-level community-use space.
The residence comprises 108 units, including studio and one-bedroom apartments—48 of which have been reserved for seniors—as well as two- and three-bedroom apartments. The 9476 m2 (102,000 sf) residence was developed by two nonprofit organizations: Mutual Housing Association of New York (MHANY) and Nos Quedamos.
According to RKTB, development might have been limited to about 5109 m2 (55,000 sf) and fewer than 60 units, if not for the Affordable Independent Residences for Seniors program. Adopted by city council in 2016, this zoning modification allows for increases in density when the program includes set-asides for seniors.
The design approach is expected to foster pride in the neighborhood. Identifying cost-effective materials and finishes for the apartment interiors, such as quartz countertops and high-quality LED fixtures, the architects sought to add value to the affordable rentals. Outwardly, the design presents a façade that feels at home among the surrounding buildings.
Behind the complex, RKTB has placed a 660 m2 (7100 sf) landscaped yard, nestled within the building's L-shape. With spaces designated for active play and quiet activities, the amenity provides an asset for all residents.
Meanwhile, the street level of Phoenix Estates II includes 344 m2 (3700 sf) of community facility space. Currently used as art galleries, these areas can accommodate other uses in the future such as after-school programs, daycare centers, and even medical services.