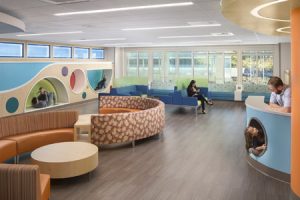 A state-of-the-art children's surgery center has opened on the UC Davis Medical Center campus in Sacramento, California. Designed by HGA, the 1858-m2 (20,000-sf) center is one of the next steps in a multi-year, multi-phase seismic compliance master plan for the hospital.
Located on the second and third floor of the surgery and emergency services pavilion (SESP), the surgery center's pediatric facility was designed to meet current seismic safety code. Patients and their families check in and use the waiting room on the second floor that also houses the staff breakroom, administration offices, and other support services. Patients are then escorted to the prep/recovery bays on the third floor, which also house six new operating rooms (ORs).
HGA's goals included creating an environment that was practical and child-friendly. They designed each key element to provide a sense of comfort, stability, and safety.
"Key to the design was creating a variety of positive distractions for the children and the parents to take their mind off the forthcoming procedure," said Greg Osecheck, principal in the Sacramento office of HGA. "We pulled elements from the surrounding environment to link the space to the Sacramento valley. We incorporated flowing patterns in the floor finish to mimic the Sacramento River. We integrated circular patterns and shapes throughout because they are proven to have a calming effect visually."
Additionally, the OR environments assist in controlling the pediatric patient's body temperature. Infants and neonates are vulnerable to hypothermia and hyperthermia during surgery. Therefore, the need for rapid heating and cooling of the ORs. Computational fluid dynamics (CFD) computer modeling was utilized to optimize the size and location of ceiling diffuser arrays and low wall return grilles and to determine actual ventilation rates necessary for thermal management and to achieve superior airflow around the operating tables.