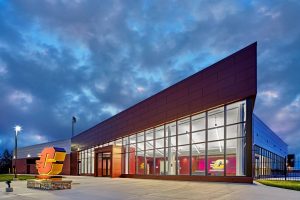 Central Michigan University (CMU) announced the completion of the new Chippewa Champions Center in time for summer training and the fall athletics season.
Located at Kelly/Shorts Stadium and designed in partnership between GMB Architecture + Engineering and Populous, this year-round facility will serve Central Michigan University and is a testament to CMU's commitment to student success and attracting the next generation of Chippewas.
At more than 4645 m2 (50,000 sf), the newly constructed Chippewa Champions Center includes a 650-m2 (7000-sf) state-of-the-art weight room, nutrition fuel stations, and an expanded sports medicine and rehabilitation facility. The multi-purpose, flexible meeting and academic space proves CMU's investment in the training and development of all CMU student-athletes and fills a campus need for meeting and event space.
The $30 million facility also allows CMU's football program to remain a leader in the Mid-American Conference (MAC). Featuring a 390-m2 (4200-sf) football locker room, new equipment room, laundry, video operations, and support operations, the new space will support recruitment for the program and transform the game day experience at Kelly/Shorts Stadium.
"It's the kind of project that has a positive impact reverberating across our campus and is nothing short of a game-changer for our university," said Amy Folan, CMU's Zyzelewski Family Associate vice-president/director of athletics.
Featuring new hospitality and premium spaces, the Chippewa Champions Center allows for revenue generation through hosting outside client, community, and donor engagement events. On game days, the 372-m2 (4000-sf) Isabella Bank VIP Club offers both climate-controlled and outdoor patio spaces.
The 16 new loge boxes on the second level offer a blend of traditional club seating and private suite experience with two TVs in each box.
The facility also provides non-game day partnership opportunities with space for state-of-the-art training experiences for CMU students enrolled in The Herbert H. and Grace A. Dow College of Health Professions and the College of Medicine. It will also create real-world opportunities for students in marketing and hospitality, broadcast and cinematic arts, and integrative public relations.