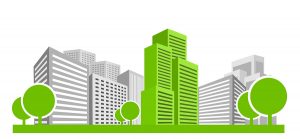 A new publication provides direction for designing and constructing zero-energy office buildings in all climate zones.
The Advanced Energy Design Guide for Small to Medium Office Buildings: Achieving Zero Energy was developed by the American Society of Heating, Refrigerating and Air-Conditioning Engineers (ASHRAE), the American Institute of Architects (AIA), the Illuminating Engineering Society (IES), the U.S. Green Building Council (USGBC), along with the U.S. Department of Energy (DOE) through the National Renewable Energy Laboratory (NREL).
"This guide provides a pathway to zero energy and presents design teams with strategies for achieving energy-saving goals that are financially feasible, operationally workable, and readily achievable," says Paul Torcellini, project committee chair.
This guide offers user-friendly directions for the construction of new, low-energy, small to medium office buildings and also applies to retrofits of existing structures, depending on the depth and breadth of the project. Strategies for reaching zero, including energy-efficient targets and how-to recommendations can also be found throughout the guide.
Additional features include:
practical advice for owners and designers to successfully achieve a zero-energy building;
information on how every design decision can move a project toward zero energy;
specific energy targets for office buildings by climate zone;
recommendations for conceptual phase building planning and siting;
strategies to reduce and eliminate thermal bridging through the building enclosure including architectural detail drawings;
plug-load control and management plans to reduce energy consumption;
recommendations on lighting configurations, including controls for better lighting quality and energy benefits;
information on sizing and designing HVAC systems to achieve maximum energy savings;
strategies for balancing energy efficiency and renewable energy generation including the effective use of roof space;
pointers on how to apply the guide to retrofit building projects; and
bonus information on using energy efficiency as a strategy for resiliency and grid alignment.