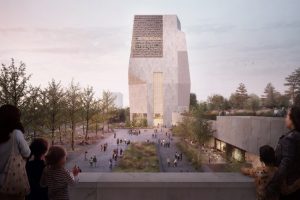 The Obama Foundation has revealed new renderings of the future Obama Presidential Center, a museum and public gathering space in Chicago's South Side.
The campus will add to Jackson Park, bringing new gardens, a larger playground, and scenic paths.
A public plaza at the entry of the campus will serve as a gathering place for live performances and community festivals. The museum building anchors the northern end of the plaza, the forum building wraps its east side, and a new branch of the Chicago Public Library frames its southern end.
The garden level offers a series of interactive programs, and also features a retail shop and café. A landscaped courtyard brings natural light and greenery to the center's public spaces.
The museum building's design embodies the idea of ascension—of a movement upward from the grassroots. Its form is inspired by the idea of four hands coming together—a recognition that many hands shape a place.
The park will offer play areas and walking paths, all connected by a long pedestrian promenade that runs alongside Jackson Park's historic lagoons.
The women's garden preserves the signature circular form and location of the historic sunken lawn with a new enlarged perennial garden, which captures and treats rainwater, encircling the garden.
A 0.4-ha (1-acre) wetland area will capture and treat stormwater and feature a wetland walk that threads through the area and offers a unique environment with seating, a tree canopy, and a place for children to play.