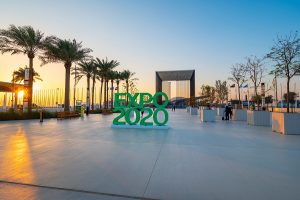 The mobility pavilion, designed by Foster + Partners, is named after the first letter of the Arabic alphabet; called Alif. It occupies a plaza at the south entrance to the site. Its highly reflective stainless steel cladding was inspired by chrome fenders and aircraft wings. It reflects movement from the surrounding areas, making the building seem 'in motion.'
An amphitheater and a second stage, as well as a piazza surrounding the building, will host mobility-related performances, events, and demonstrations. The display areas are divided into three key zones, each forming a petal in the tri-foil plan.
Visitors enter directly into the central core, which features a passenger lift capable of holding more than 160 people, 38 for social distancing restrictions.
Alif has been designed to Leadership in Energy and Environmental Design (LEED) Gold standard. It is a self-shading building, and its metal cladding reflects heat. Photovoltaic panels on the roof take advantage of solar energy, and the landscape design is sensitive to water use.
A partly underground, open-air 330-m (1083-ft) track will allow visitors to see mobility devices in action, as well as witness mass-produced technology that has the opportunity to improve the quality of life for people in developing countries.
"This is the third World Expo that we have been involved in. The two previous were in Shanghai and Milan. These events are incredible opportunities to showcase innovation from around the world. Similarly, the mobility pavilion conveys new ideas of mobility in a simple yet thought-provoking and engaging manner, as we look towards the future of Dubai and the UAE in its aspirations, its technology, and its investment," said Gerard Evenden, head of studio at Foster + Partners.