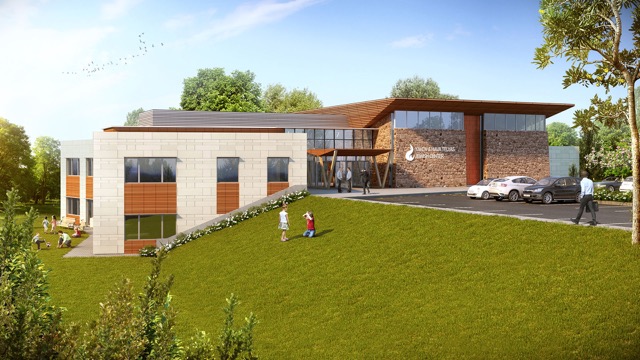 Construction has begun on Yakov and Hava Telyas Jewish Center, a 1394-m2 (15,000-sf) education center and synagogue in Clinton, New Jersey.
Designed by Landau | Zinder Architects, the new building will include classrooms for pre-kindergarten, Hebrew school, and adult education, as well as a sanctuary, meeting rooms, offices, a kosher kitchen, a youth lounge, and a combined library, and media room. It will also feature an outdoor learning space, a playground, and parking for more than 70 cars.
According to architect Joshua Zinder, AIA, partner at Landau | Zinder, the new building is constructed from materials respecting the surrounding context: fieldstone, glass, and a durable wood-like material selected for beauty and longevity.
Staff, community members, and visitors are expected to enjoy interiors full of daylight from full-height glass walls and clerestory windows.
"This new building offers a practical and beautiful facility for the organization's inspiring role and worship services for the region's Jewish community," said Zinder. "Michael Landau and I are proud to have the opportunity to design this multi-faceted building, and to make a lasting contribution to the future of Chabad of Hunterdon County."