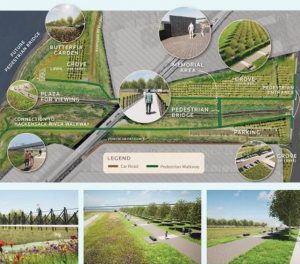 Jersey City, New Jersey, will transform a 35-year-old toxic Superfund site into a brand new 12-ha (30-acre) waterfront park.
The city's $10-million investment will create public access to the open greenspace located along the Hackensack River waterfront.
The design includes a pedestrian bridge to connect various sections of the park, a pollinator garden framing views to the Hackensack River, a waterfront walkway, as well as a grove of 502 trees. Each tree will represent a Jersey City resident who lost their life to the COVID-19 pandemic and were unable to receive the appropriate funeral services due to the safety protocols in place at the height of the contagion.
The new Skyway Park will create open space for recreational and passive use, providing public waterfront access and significantly extending the Hackensack Waterfront Walkway. A pedestrian bridge utilizing design vernacular from the overarching Pulaski Skyway will connect across to a formal memorial installation and the tree grove. Every other row of the bosquet will have a path running perpendicular to the main promenade.
Beginning in 1970, the landfill site was used as a dumping ground for dangerous chemicals and industrial waste. The illegal dumping caused frequent spontaneous subsurface fires, putting the local community in danger until the landfill was capped in 1985 to eliminate additional exposure and prevent future contamination.
In 1982, the 35-ha (87-acre) site was added to the state's Superfund list. Since then, the New Jersey Department of Environmental Protection (NJDEP) remediated the site. In addition to the new park, the site is now home to newly constructed warehouses and commercial use.