New Jersey's Deborah hospital marks centennial with new expansion
by brittney_cutler | February 28, 2022 4:31 pm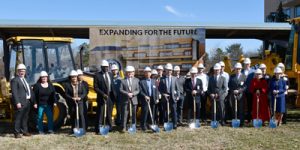 The Deborah Heart and Lung Center (Deborah) in Brown Mills, New Jersey, will celebrate its 100th anniversary with a multimillion-dollar expansion project.
DEBORAH100: The Project will bring a reimagined patient experience to the hospital, with all aspects of construction focused on patient privacy, comfort and care, access to cutting-edge technology, and accommodations for families who remain a key support in a patient's hospital journey.
The new construction includes a three-story addition on top of existing hospital space, with a total of 36 private patient rooms, 18 of which will be critical care. One floor will be dedicated to staff and other uses. The project will give the hospital a total of 95 licensed beds.
After the construction phase is completed, the remaining double-occupancy rooms in the hospital will be renovated into private rooms. Additional plans include upgrades to the hospital's cardiac catheterization labs, a new pharmacy clean-room, new robotic technology in the electrophysiology labs, and respite lounges for staff.
The project is timed to coincide with the hospital's centennial celebration next year.
Endnotes:
[Image]: https://www.constructionspecifier.com/wp-content/uploads/2022/02/BC_DeborahHeart.jpg
Source URL: https://www.constructionspecifier.com/new-jerseys-deborah-hospital-marks-centennial-with-new-expansion/
---