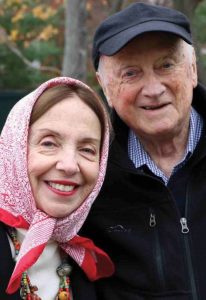 The Connecticut Architecture Foundation (CAF) has founded a new scholarship fund in honor of prolific Irish-American architect Kevin Roche and his wife, Jane, to support students as they step into architecture and design careers.
The Jane & Kevin Roche Scholarship Fund has already secured $150,000 in seed money through the Roche family. CAF encourages monetary donations to the scholarship to help it mature. The fund will begin awarding money in 2023 and annually after that to select students who have completed two years in accredited undergraduate architectural programs or have been accepted into an accredited graduate program.
A native of Dublin and graduate of the National University of Dublin's architecture program, Roche (1922-2019) moved to Chicago early in his career, working with Mies van der Rohe, and later, with Eliel and Eero Saarinen in Michigan before establishing Kevin Roche John Dinkeloo and Associates in 1966. Among the firm's noted designs are the Ford Foundation Headquarters and the Lehman Pavilion at the Metropolitan Museum of Art.
"This year, Kevin Roche would have been 100 years old," says Stephanie Degen-Monroe, AIA, president of CAF. "Some aspects of architectural practice do not change or shouldn't. Kevin is remembered by office staff as wanting to give quality of life to people at work. There are multiple examples, all focusing on light and the natural world as the founding elements of the architecture. I can't think of a better way to honor his legacy of exceptional architecture and the advancement of promising future architects than by supporting the scholarship dedicated to his ideals."